On the Groover web platform, artists to promote their music, conquer new audiences and meet potential future partners who can connect them with the best blogs, radios, and music pros looking for emerging talent. On Groover, artists send their music directly to a selection of blogs, radios, playlisters, and labels of their choice. They're guaranteed that their music will be listened to, receive feedback and maximize their chances of getting press reviews, coverage on the radio / in playlists, and meeting with their future label or manager.
More than 2,000+ active music curators & pros are available on the platform: BIRP.fm, Dummy Magazine, Ba Da Bing! Records, Electro Posé, College Music, Tsugi Radio, Indie Folk Central, and many more. So far, Groover has helped generate over 2 million pieces of feedback, 400,000 shares (articles, radio broadcasts, playlist inclusions etc.) including 1,000+ signatures with labels, publishers, managers and touring companies.
The Ultimate Guide: Our best tips to optimize your experience with Groover
1. How to use Groover as an artist
Once you've signed up on Groover, you can follow those easy steps to send your track for the very first time:
Start a campaign and add the track/song that you want to promote using a YouTube link – can be unlisted – or SoundCloud link – can be private if shareable.
Choose the music curators & pros you want to contact. You can use the filters to help you find the right ones for you, and get more info by clicking on their cards.
Write a short pitch for your track, by giving context elements and indicating what your targets are. You can also add a personal message for each of the influencers. More info on how to write the perfect pitch here
Once on the summary of your campaign, buy Grooviz, the tokens which allow you to send your music to the blogs, radios and music pros on Groover. Each contact costs you 2 Grooviz (1 Grooviz = €1).
Validate your campaign. You'll get your feedback within 7 days. After 7 days, you get Grooviz back for those who haven't replied to you in order for you to contact someone else… Or the same person again. Just so you know, the current answer rate is around 90%. Magic ✨
After your campaign is launched, don't forget to fill in your profile as much as you can. It's a precious source of information for the music professionals that you contact and who'd wish to know more about you and your project.
Check our video tutorial explaining you how to use Groover for the first time here
2. Who are the blogs, radios and music pros on Groover?
Groover influencers are music enthusiasts who have been handpicked by the Groover team for their ability to spot new musical trends. Today they fall into 3 main categories:
Media outlets: magazines, radio stations, blogs, playlists, YouTube channels… If they like your song, they will share it with their audience, allowing new fans to discover your music.
Labels, Publishers, and Bookers: they are looking for the next talents to sign and promote, working as your potential future partners.
Mentors: managers, coaches, or other professionals in the field. They have been selected for their ability to give constructive advice on your production, your career, or your project.
All of our influencers have the shared desire to discover music and have been carefully chosen for the value they can bring you. These musical influencers are independent and specialized in different musical genres. Today there are more than 2000 active musical influencers on Groover. Discover them here.
| Read also: Radio: How to Get your Songs Successfully on the Air?
3. When should I send my music on Groover?
Before starting a campaign on Groover, you need to identify the current phase of your project:
If your project is not artistically finished but you have demos, you can use Groover to contact labels, managers, touring companies, publishers– even if they will often wait to hear a "finished" project- or mentors who will be able to give you detailed advice on your strategy and production. Read our article How to find a Booker?
If your project is mixed, mastered, ready to be released or already released, you are now in the promotion phase of your project. Using Groover can boost your visibility as soon as your first single is released and serve as a springboard before the release of a more ambitious project (EP, album…) or a major event (concert, interview, showcase). In this case, there are two potential ways to proceed- plans A and B below.
Keep in mind that some influencers- especially independent playlists – are much more responsive and efficient when your music has already been released on streaming platforms like Spotify, Deezer, Apple Music etc. Consider excluding these influencers from any campaign you may be running pre-release day and wait until the track is available on streaming platforms before contacting them. You can also add the Spotify link in your track info at that time.
💡 Tip: You can prepare organized lists of influencers– via the little bookmark icon- based on promotion type or timing: "Before release" and "Day of release" for example. This will save you time!
If you don't know where to start, we strongly advise that you send your music the day of its release or some time after. Contact as many relevant influencers as possible in order to give your song the visibility it deserves!
Remember to regularly remind people who follow you to go listen to your track, look for new contacts, create new relationships with different players in the music world- artists, producers, media / radio / labels etc. If they discover your music and fall in love with it even a year after its release, they will not hesitate to share it with their community. This can continue to attract more and more curious people and fans around your music!
4. Can I send a song that hasn't been released yet?
Yes, of course! You can use:
An unlisted Youtube link– make sure to check that your video is embeddable.
A private Soundcloud link– be sure to use a shareable link with a small code called 'token' at the end, obtained by clicking "Share" under the Soundcloud player.
Remember to indicate the upcoming release date of the song. The musical influencer will thus be warned that the song has not yet been released and therefore they should not share it yet.
If you are looking for a media to share your song as an exclusive premiere, don't hesitate to specify that it is an Exclusivity thanks to the box specifically provided at the time of sending your song.
If you're looking for advice on a pre-mix or demo, you can select the Demo option when entering your song information so that music influencers are notified.
5. Write the perfect pitch for your song
Once you have chosen the media, radios, labels and music pros you wish to contact and added a link to your song, the last crucial step before validating your submission is to write a good pitch for your song.
Here are a few tips on how to get attention and make your mark:
1. Specify what you are looking for, don't leave your contacts in the dark
What are you looking for right now? Visibility (articles, playlist inclusions…) ? A label, a manager, a booker? Need advice on your demo? All of that at once?
2. Adapt your pitch according to the chosen contacts
At the moment, are you looking for a label for the release of your next EP? After playing several concerts, do you now want to work with a tour manager? You want to publicize your recent release to the media?
Don't hesitate to adapt your request and the information you provide according to the contacts you have chosen, informing them briefly about your current news.
3. Be concise and informative
No matter what happens, the professionals you contact at Groover will listen to your track. Rather than describing your song, try to give them the context. For example, you can give them 1-2 essential points about your project, keeping it concise. A few suggestions:
The release date of your album/single, and the link to listen to it
The context or story behind a music video
Your next gig or the venues of your last important concert dates
A recent opening act you did for a band you admire
Support received for the release in question (crowdfunding, media coverage…)
Your top musical influences
Make sure not to give too much information- try to concentrate on 1-2 essential elements of your project that are likely to interest professionals, 5 lines of text maximum. This is a first contact and their time is limited.
💡 Final Tip: Don't forget to fill out your profile and keep it up to date. It is a sign of seriousness and an important source of information for professionals who discover your project. It's also a way to detail your musical universe a little more than in the pitch field!
| Read also: How to Write a Good Biography to Promote Your Music?
6. What are Grooviz?
Grooviz are credits on Groover. To send your tracks to media, labels and musical influencers present on the Groover platform, you need to acquire Grooviz.
1 Grooviz costs 1€ TTC
Sending a song to 1 influencer costs 2 Grooviz
You can benefit from Grooviz packs:
| Read also: How to manage your Budget when releasing your Music for the Best Promotion?
7. What budget should I invest on my Groover campaign?
After 2 years of Groover being alive, the platform's data clearly show that the most successful campaigns on Groover were all sent to more than 30 contacts (60 Grooviz), and most of them more than 50 contacts (100 Grooviz).
The # of curators / pros chosen will of course depend on your music style and your targets, but with more than 1,000 curators / pros currently active, you risk to be spoiled for choice (though filters can help!)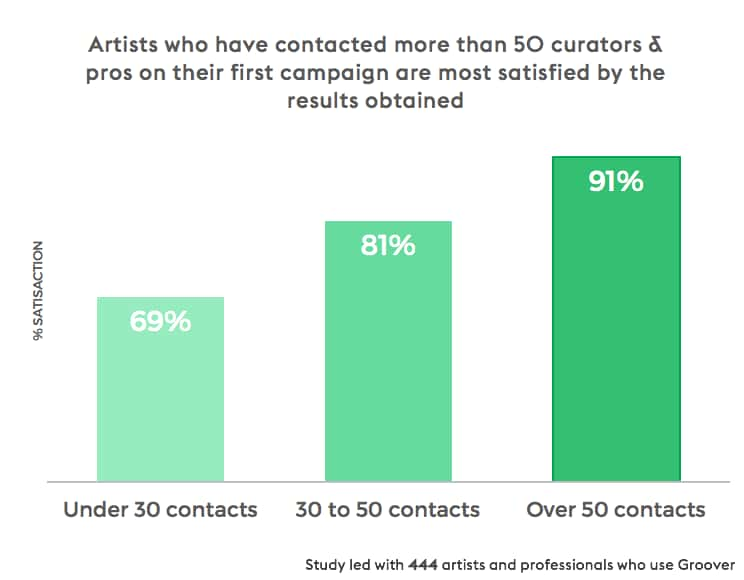 If you're looking for visibility: more than 70% of the contacts available on Groover can offer you direct opportunities to get coverage if they have a crush on your music. If it is your main target, your budget can rise over 100-150 Grooviz (50-75 contacts) depending on the music genres to which you identify your music. The more you select curators and pros, the more you increase your chances to get interesting results!
If you want to build your entourage: we recommend here to take your time to target relevant contacts for you and your musical univers. The campaigns can be small and precise.
More advice about which budget you should invest on Groover are available here
8. How does feedback work on Groover?
A feedback is a short text of a minimum of 15 words written by the musical influencer on the song sent by the artist or their representative. Today, the average feedback is close to 40 words. Feedback is private- only you and the musical influencer who wrote it have access to them.
What can an artist expect to read?
The feedback is more or less detailed according to the influencer- who is free to say what they please- with the intention of being constructive (for the artist), explanatory (on the reasons for sharing or not), sincere, and encouraging. Every musical influencer has read and adheres by the Groover Feedback Guide.
No, this is not Groover's principle. The platform guarantees that your track will be listened to and that you will receive feedback from the chosen blogs, labels and pros. The response rate is indeed higher than 85%, and you get Grooviz – name of the credits on Groover – back if you don't get an answer within 7 days.
However, we do all our best to guide you towards the right curators & pros for you so you maximize the opportunities you can get. Currently, the acceptation rate – i.e. when your track is shared or when the curator / pro wants to get in touch with you – is around 20%! Two things to remember, which can seem opposite but actually can help find the right balance:
Good targeting is key and will increase your performance
The more you contact curators & pros, the more concrete opportunities you'll get!
Important: the music curators & pros on Groover remain entirely free to share your song and to contact you or not.
– Article written by Marguerite Beaussant in its original version, translated by Mackenzie Leighton –
And there you go! All you have to do is register here 👈
And if you have any questions, don't hesitate to contact us 😊