With ForTunes, you have quick and easy access to all your music data – playlist placement, blog posts, music downloads, and more. – with the possibility to share this news immediately on your social media platforms. A great way to follow the evolution of your music on the internet in real time without getting lost on all platforms and devote more time to creating your music!
By connecting these artists with influencers, Groover provides an affordable and effective solution to their problem and increases the chances of many artists to build a sustainable career.

– ForTunes –
ForTunes, can you present your project?
ForTunes is the all-in-one music insights platform – available for iOS, Android and web-browser. We track data from a variety of streaming services, social media platforms and blogs. The heart of the platform is a news-feed that keeps our users up-to-date with career-related events, such as playlist placements, fan and influencer uploads, blog mentions, comments, thresholds and achievements – which our users can share directly on social media, letting their fans and followers know about cool stuff happening in their career.
Verified ForTunes users are able to create a public profile – a dedicated landing page enabling them to share links to their streaming and social media profiles and showcase milestones and achievements. Our Team feature lets verified users invite team members – like a manager, label executive or booker – to their artist profile.
ForTunes is committed to empowering Creators to grow their career. Besides data insights we also provide powerful recommendation tools that help our users to identify playlists and labels that really fit their sound. Our Similar Artists tool identifies related Creators within the ForTunes universe. With this information they can stay up to date on their career, learn from their success or even kick off a collaboration.
How did you get the idea to create ForTunes?
Our CEO Florian and I (Christoph Muck) met a few years back. We're both rooted in the music business and noticed how the industry was evolving. Digitalization gave millions of artists, producers & bands the opportunity to produce, release and promote their music worldwide – and naturally they would take that chance and edge into the market.
But artists these days are not only writing and producing music – a lot of them take care of their social media, distribution and promotion themselves. They lacked a convenient tool that helps them to gather and analyze their data, so they can spend less time in several data backends and more time working on their music. So we created ForTunes.
At the time we started music analytic tools were mainly built for big labels or agencies. Our mission is putting artists back in the driver seat.
Who can use ForTunes and how does it work?
ForTunes is for everybody who produces and releases music online or runs social media profiles. After downloading the app and creating an account there's a quick onboarding process – we need artists to point and connect us to their streaming and social media profiles. That's it. From the moment, an artist has created a profile, we update their data on a daily basis. We encourage our users to turn notifications on so they never miss a beat.
The majority of our users are artists but we see more and more labels and management agencies joining our service. With the Multi-Feed we just recently launched a feature that streamlines the data of several artists in one single feed, making it super easy to keep up with developments of a whole roster.
| Read also : Musical metadata – How to master the stats perfectly in the streaming era ?
What's the real plus compared to other tools that offer the same kind of service?
ForTunes is an artist-centric service, so when we work on new features, we always have artists in mind. The biggest difference to other tools is the way we process and display data. We don't present artists with Excel-like data sheets on a browser dashboard – because we learned that's not the way they want to look at data. Our app notifies artists when something great like a Spotify playlist placement or a YouTube upload happened and gives them the possibility to immediately share those achievements. Even on tour or in the studio, the app and their data is always with them. Although we do offer a Dashboard and in-depth data screens that let you dig deep into numbers our biggest plus is the convenience our app provides. And we are more affordable than other tools.
Read also : How to get on Spotify Playlists ?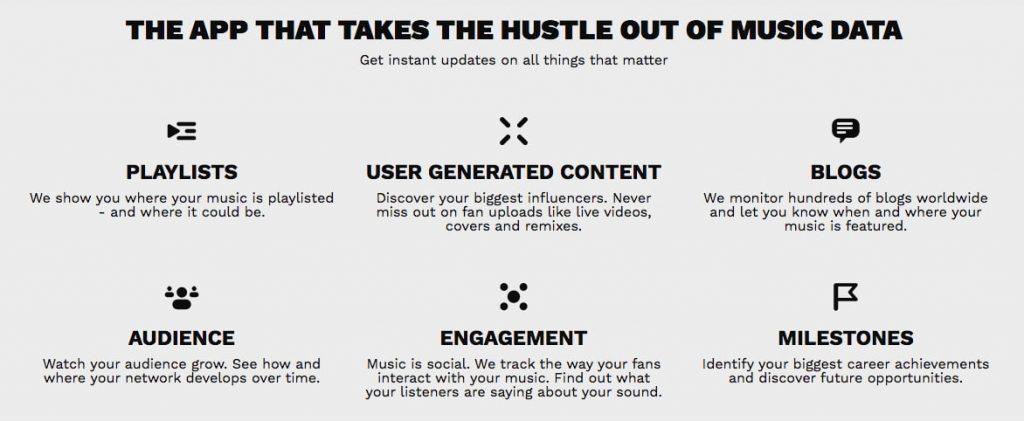 How much does it cost?
The Feed, Public Profiles, the Team feature, Shareables and notifications are for free. Our prices for deeper insights in Playlists, Followers, Comments and more start at €/$ 7.99 per artist per month. Groover users get a discount though. Just enter code ARTIST5 on the checkout page and get ForTunes for only €5 a month.
We also offer a risk-free 10 day trial (no credit card needed). Give it a try 👈
> Use discount code GROOVER for 20% off ForTunes Premium
What's a day with the ForTunes team like?
Right now we are social distancing, working from home, meeting mostly online. But in a pandemic-free world we would meet up at our office in Vienna and work on making the lives of artists better. As most of our team have artist projects themselves, we have to watchout that we don't get lost talking about upcoming releases and listening to new music though.
ForTunes, what are your plans for the coming year?
We are constantly working on integrating more data sources into our service. We recently added Apple Music and Shazam insights as well as Media Radar – a tool that keeps our users up-to-date on their tracks being featured in music blogs, news magazines or other online media.
And finally, what do you think Groover brings to the music industry ?
Back in the old days, artists needed to hire promoters to put them or their music in touch with traditional media outlets. Although this world still exists, for a lot of artists nowadays it's just not the reality anymore. They produce, release and promote music on their own or are embedded in small teams. By connecting these artists with influencers, Groover provides an affordable and effective solution to their problem and increases the chances of many artists to build a sustainable career.
| Read also : Amuse – The Free music Distributor that spreads your music around the world
To send your music to the best labels, media, radios and music industry professionals, it's right here on Groover 👈