If you're an artist, you've probably heard that getting a record deal with an independent or major label can help you boost your music career. Generally speaking, recording labels can provide you with valuable advisers who can shine a light on your music. In this article, we talk about how to get a record deal and how to navigate signing the right type of contract for your musical project.
The recording industry, now more than ever, is a unique artistic enterprise and a big machine. It's important to remember that the music business is just that — a business. It brings together legal, economic, and promotional virtuosos who have a variety of different skills. Given this reality, you should seek to form alliances with professionals within the music industry early on. Signing a contract with a music label can help you navigate the difficult terrain of the recording industry. This could also give you the time you need to focus on the more creative aspects of your music projects. Some artists, however, choose to self produce and release their music independently. A recent survey from Pirate showed that 53% of the artists asked would prefer to self release than sign with a traditional label. This could be due to the fact that you can keep 100% of your royalties when you release independently and can try to make a name for yourself on platforms like TikTok and Instagram. However, you won't have the resources, network, and potential financial support that a traditional label could offer you.
Whether you're looking to get a record deal or just answer some questions, here is everything you need to know about how to get a record deal as an independent artist!
1. How to Get Signed to a Record Label?
Many artists dream of dropping their debut album with a record label right away, in hopes of making a name for themselves on the music scene. Luckily, getting a record deal with a music label as an unsigned, independent musician is quite feasible in this day and age. There is no age minimum for signing a record deal- just take a look at the success story of Delia Nicole who signed with her label Major Promo Music when she was just 16 years old, thanks to Groover! Independent record labels are now responding to the demand of indie musicians worldwide. Therefore, the first step in signing a deal is to become familiar with the universe of 'labels'. This includes researching record companies who may be drawn to your music. Just as media outlets are guided by their editorial line, record labels work the same way. Before we explain how to get a record deal, let's quickly go over the basics of what types of labels are out there.
1.1 The Basics: Major Label vs Indie Label
When one talks about a major record label, they are referring to the "Big 3": Warner Music Group (WMG), Sony Music Entertainment (SME), and Universal Music Group (UMG). These majors represented 70% of recorded music revenue in 2022, while independent labels made up the remaining 30%.  Underneath the three major companies are different subsidiary labels. For example, Island Records and Def Jam Recordings are owned by Universal Music, RCA Records and Columbia Records are owned by Sony Music, and Atlantic Records is owned by Warner. Independent labels make up the rest of the market and can also be divided up into parent companies.  XL Recordings is an indie label that is part of the Beggars Group, for example.
1.2 What type of label is right for me?
Many artists believe that landing a record deal with a major label is the ultimate goal and marker of success. However, this is not always the case. Depending on your project, you need to find the label that will be the right fit for you- whether that be a big label or a small one. Some big labels may sign new artists often and have music from a wide variety of genres. Others keep their roster small and have more time to devote to each project. It all depends on what stage you are at in your music career and the kind of resources you are looking for. Look up labels that have artists you admire and see if your music could be a good fit. After uploading their music to Groover, the French electronic music duo Myoon signed a record deal with Inside Records, the label of the famous music trend makers Electro Posé.
1.3 How do I get in touch with record labels?
Searching for the right representatives is crucial in landing a potential record deal. If you don't find someone invested in your artist development, the partnership may not work out. There is no standard procedure to follow to get a record contract with a music label, but a good jumping off point is to dig into music you enjoy and respect. Accredited on every song is the name of the person who produced it – basically, a possible future contact. Luckily, here on Groover, we've brought together over 300 record labels who are ready to listen to new music and new artists. They ask to receive songs/music projects that correspond to their preferred style(s), so it's easy to find contacts that might be interested in signing you to their roster. You'll be able to send them your music to listen to, with the guarantee that they will listen to your music within a week and write you feedback… They may offer you to meet them or even a deal! It has happened for over 1,000 artists on Groover already and is definitely the best way to break the ice. Solo artist Chaos Heidi signed a record deal with the label Suxeed when they fell in love with her originality through the tracks she sent on Groover!
Are you looking to get signed by a Record Label? ⬇️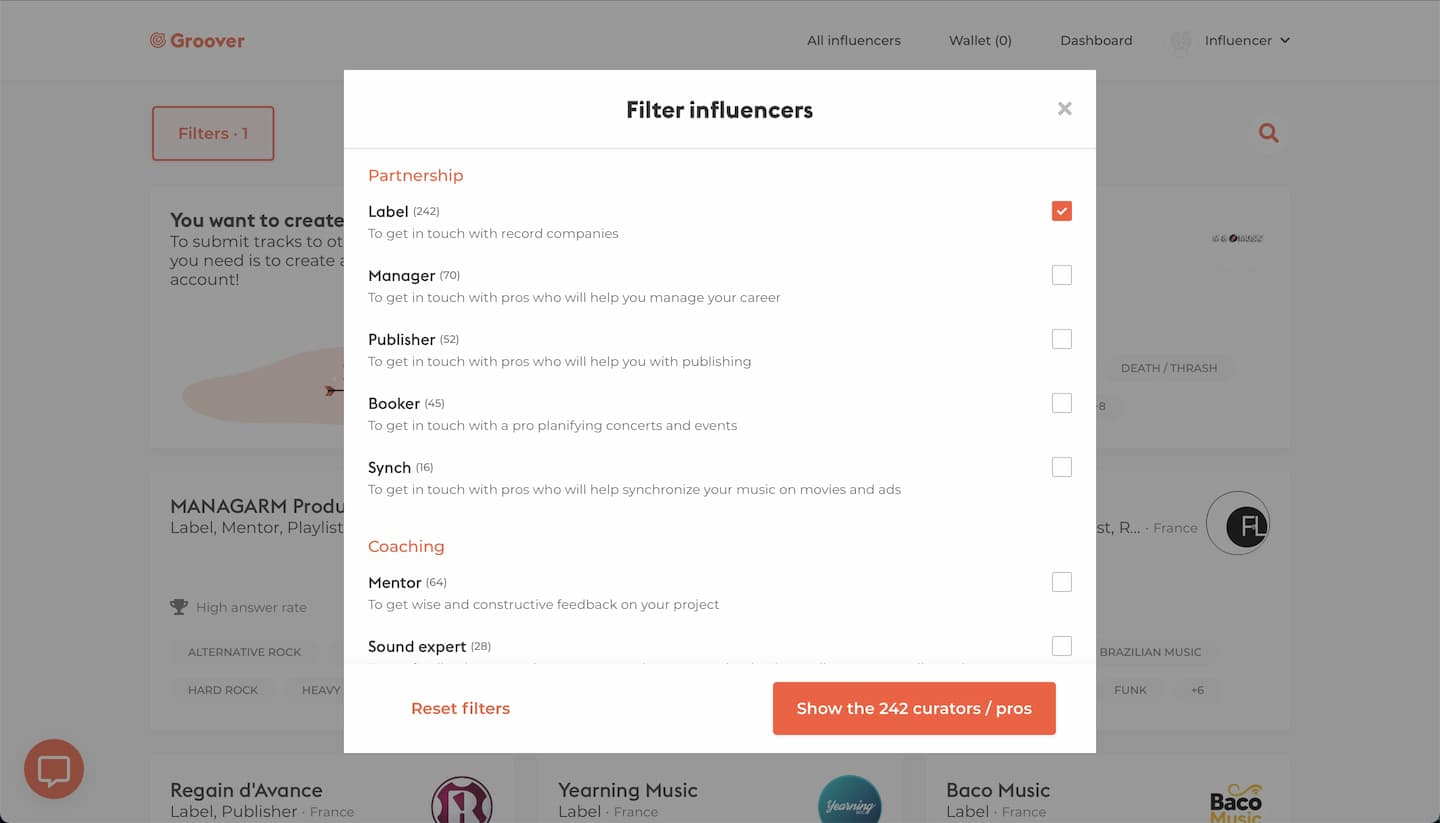 1.4 What should I send to a record label?
Once you've found who to show your music to, let's take a look at what you need to send them. It goes without saying that you need to have demos of your work. Invite them to check out your social media accounts, your SoundCloud page, YouTube, Spotify, or any other platforms where they can listen to your music. For independent musicians looking to gain new followers on social media, you can read our article dedicated to Instagram 👈
The concept is almost the same as getting in touch with journalists, minus the press kit. You have to spark interest from the music label to want to listen to more. A good way to get the attention and interest of record labels and show your potential is to develop your fanbase and generate a significant number of streams on Spotify or other streaming services. If your first single was placed in some influential playlists, for example, this is a very good sign to share with the label.
| Check out : Spotify for Artists: The ultimate guide to boost your streams in 2021
1.5 Keep in touch and be smart
Once you've found an artist representative, indie music label, or other music professional you're interested in, make sure you stay in constant contact with them. Above all, send them new tracks from your repertoire often so they can keep an eye on your evolution. They may eventually offer to produce you. What comes next is a question of contracts; we will come back to that.
Don't be in a hurry, and be smart. Don't be discouraged by rejection. If someone is not up for the challenge or willing to go on the adventure with you, it might just be a poor fit. Music is subjective, and just because you don't resonate with one person doesn't mean others will feel the same. Don't sign a deal without feeling confident with what the record label can bring to the table. Getting signed to a label isn't the ultimate success- who you surround yourself with makes all the difference.
2. What a Record Label can do for Artists
So, we've discussed how to get a record deal as an independent artist. Let's assume now that you've succeeded in getting the attention of a music label and they want to sign you. What can they offer you in return? Recording labels can offer you several types of resources, depending on their financial situation and the scale of the organization. A major label will offer a different level of assistance than an independent record label, for example.
Music Labels may pay for studio sessions, sound engineers or any other additional people involved in your music. This is called the production process.
They can also finance anything that has to do with your image, from making a music video to a professional photoshoot.
A good music label will protect you from legal issues and find new ways for you to make money.
Recording labels will often take care of distributing your music and act as music publishers in some cases.
The legal aspect is not to be overlooked. By this, we are referring to your rights as an artist, such as intellectual property and copyright rights, which will be discussed with a legal team and require your written consent. Keep this in mind for your future negotiations: by joining a record label, you, the artist, are the essential part of a functioning machine that extends beyond just music creation.
| Check out : Music rights and how do they work?
Your record label should help you with all of the promotion necessary for your music. Again, the possibilities differ by music label and artist, but can include any or all of the following:
Hiring a press agent to promote your music
Calling a journalist to write your bio
Canvassing media outlets or other channels to do publicity
The means of promoting an artist are numerous, and are constantly growing – publicity campaigns, concerts, touring, merchandising, physical and online distribution of your music, etc. Whether your record label is independent or major, renowned or just taking off, they should take care of these responsibilities to ensure your artistic development. And always remember: though there are varying degrees of flexibility, you should have the last word when it comes to how they represent you. Just make sure that the contracts you signed with the record label at the start of your collaboration allow you to stay true to your art and yourself.
3. Artist and licensing contracts
The question of how to get a record deal seems easy when you start asking yourself, how do I navigate all the different recording contracts out there? You are likely to find three main types of recording contracts with music labels. The most popular is the "artist" contract – or "exclusive recording" contract. Here, the record label will fund everything related to the costs of recording, publishing, and distributing your music. Additionally, they will manage everything related to marketing and promotion. They will also be able to accompany you in the creation of your music via an artistic director.
Regarding your revenues, it will be based on your working time (meaning the time you spend composing), and on a percentage of the total income you generate thanks to your music – such as your record sales. This is called "royalties", and the percentage varies depending on the artist's fame, or depending on the initial way you negotiate the contract. Often an artist earns between 5 and 20%. In an artist contract, you will also stipulate the duration that binds you to your producer (usually 2 or 3 years), as well as the number of musical projects (albums, EP, etc.) that you owe them – in most cases, no more than 2.
On the plus side, you don't have to spend a lot of money on your music upfront: from recording to distribution, the whole process is taken care of. The downside is that you will receive a small amount compared to the total likely profits, and that you will not own your recordings (also called "masters").
The license agreement is arguably the most important kind of contract nowadays; it involves self-production, and deals with everything related to the sale of your music. Thus, there are two cases:
You sign an artist contract where the entirety of this service will be paid for by the music record label that you are signed to.
You are self-produced, and therefore, you have a finished record that you own entirely.
In this second case, your record company will no longer have the role of a producer, but instead that of a publisher. It will then exclusively invest in promotion, communication and marketing. It is important to stress here that after the ratification of this contract, you grant your record company, for a fixed period, the possibility of reproducing, manufacturing and communicating your recordings – you, in effect, grant it a license. The usefulness of this approach is to maximize the sales of your music by distributing it massively, across all media types, thanks to the contacts and expertise of your music label. On the other hand, if this does not work, the losses will be substantial, since you will have already financed the entire creation process with your own money.
| Check out this article on the ICON Collective Blog: Being an independent artist vs signing to a record label
4. The distribution contract
As the name suggests, this contract binds the publisher and/or producer to the distributor. It will therefore allow you to call on specialists, whose mission will be to make your music accessible, whether physically (via independent record stores, department stores, etc.), or digitally (get your music on Spotify, Apple Music, Tidal, Deezer, YouTube Music, etc.). Here again, the distributor buys a finished product, ready to be marketed. To get paid, they will take a percentage on the wholesale price (of your music). If you have an artist contract, this process is included in the contract; the same goes for license agreements.
| Check out : The best way to distribute your music and what distributor to choose?
Finally, if you have self-produced music and therefore have managed the artistic and commercial aspects of your project, this last contract is for you. It will allow you to make your music accessible and you will reap almost all of the benefits from it. You won't have to pay anything back to a record label. This direction can be complicated and is mainly reserved for well known composers established in the community rather than independent artists just starting out. However, even more so than the license agreement, if things do not go well, you may lose big time!
Today, music creation is no longer reserved for an elite few given the lower cost of production for independent musicians. Therefore, the license agreement is generally the most suitable record label contract. However, to get started and build a solid relationship with a music label, we recommend the artist contract. You may earn less, but you can focus almost exclusively on making music. No matter what you choose, pay close attention to the length of your contract. Make sure it meets your needs as an independent artist.
5. Some Examples of The Best Independent Record Labels
Want to find out how to get a record deal with independent labels on Groover? Want to see some unsigned artists on Groover and who they signed with? Check out the list of indie labels below ⬇️
The artistic line of the Cracki Records label is varied. They are driven by heart and aim to offer a wide range of eclectic, quality music. Therefore, they consider themselves a laboratory but also a springboard. "The support and development of young emerging artists is our leitmotif."
Styles of music : electropop, indie pop, indie rock, new-disco, pop soul, psychedelic pop, synthpop, synthwave.
Artists signed to Cracki Records : Agar Agar, Saint DX, Alma Elste, GENTS, Lucien & The Kimono Orchestra, Mangabey, Yen Yen, Antonin Appaix et bien d'autres…
Started by Ben Goldberg from his dorm room in 1994, Ba Da Bing is a Brooklyn, NY label that has gone on to release almost 200 albums (Sharon Van Etten, Beirut, Julie Byrne, Lady Lamb, Talk Talk reissues) spawn a sister label (Grapefruit), encompass management (Neutral Milk Hotel, Shearwater, The Breeders), tour booking and management, freelance product management (The Leaf Label, Planet Mu), marketing and promotional consultation, and lots of dog walking for one freeloading live-in client. Ben has also had promotion jobs at Matador Records, Merge Records and Atlantic, working with artists like Interpol, Pavement, Mogwai, Superchunk, Arcade Fire, and Liz Phair. He met Josh Groban once and really liked him a lot.
Styles of music: ambient, experimental rock, indie folk, lofi bedroom, neoclassical, noise, psychedelic rock, experimental, indie, lo-fi, melancholic, underground, weird…
They'd like to receive music similar to artists like: Cate Le Bon, Cassandra Jenkins, Voivod, Sarah Mary Chadwick, Roy Montgomery, Talk Talk, Jackson C. Frank, Radiohead, Brian Eno, Alice Coltrane, The Velvet Underground, Fred Neil, Throbbing Gristle, Swans, Tall Dwarfs, Ichiko Aoba, The Dead C, Six Organs Of Admittance, Talulah Gosh, Life Without Buildings.
Independent music label started in 2004.
Styles of music: funk, hip hop, latin music, soul, rap, r&b.
Artists signed to Chinese Man Records : Chinese Man (High Ku, Sly, Zé Mateo), Taiwan MC, Scratch Bandits Crew, Deluxe, Baja Frequencia, Youthstar, Rumble, LeYan, Skoob le Roi, Tomapam…
MrRevillz is a tastemaker brand designed to connect artists and their music with listeners seeking to discover music ahead of the trend. I try to keep all music on the channel true to my own personal taste in music at the time of posting. If you have any questions or suggestions please feel free to drop a comment and leave your mark in the form of a like or dislike.
Styles of music : bass music, deep house, disco, house music…
They'd like to receive music similar to artists like: Kygo, MEDUZA, RÜFÜS DU SOL, Avicii, Lost Frequencies, Goodboys, Sam Feldt, David Guetta, Calvin Harris, Fred again, Imanbek, Dynoro, Alok, Vintage Culture, Tiësto, Alan Walker, James Hype, John Summit, Jonasu, Tate McRae.
Frontiers is a quality record label of Classic and Melodic Hard Rock, Progressive and Metal music in the international markets.
Styles of music: hard rock, metal, rock…
SONO Music Group is a record label and a collective of professionals aiming to empower artists by working on projects they personally love as a collaborative family. "Sono" in Italian means 'I am', in Latin means 'sound'.
Providing services globally, SONO aims to embrace music while inspiring an outward thinking, making people enthusiastic about a world that has no boundaries, by communicating through music.
The mission at SONO is to connecting artists, creatives and music lovers globally, leaving the world more colorful than we found it.
Styles of music: pop, hip-hop, rap, young talents
—
Now that you know everything there is to know about how to get a record deal, it's time to get to work!
– Translated by Betty Gonzalez Gray –
| Can music producers get signed to a record label?
---