We interviewed SIGIC, the Slovenian Music Information Centre, which has been working for years on the development of the music market in Slovenia and the export of Slovenian music internationally.
We can understand Groover as the future of the international music scene, which will preserve and enrich its diversity, preserve its quality and educate its musical audience.

– Peter, SIGIC –
Peter, can you present yourself a bit? How did you come to work in the music industry?
I joined the music industry when I was still in secondary school and member of the Slovenian group Zaklonišče prepeva that was quite popular at the time. After I finished my studies of philosophy and sociology of culture at the Faculty of Philosophy in Ljubljana, I started working at the Ministry of Culture as an advisor in the field of music. During this time, I kept playing music; I recorded for different bands, and grew ever more firmly embedded in various facets of the Slovenian music scene. Based on this experience, I became the head of SIGIC – Slovenian Music Information Centre in 2014; this enabled me to make ever better connections also in the international musical realm. I recognised the great Slovenian creative musical potential and realized that it was accompanied by a lack of courage and skill, which hindered the artists from presenting their music to the wider international public.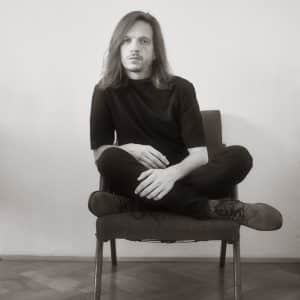 Could you tell us more about what SIGIC is?
SIGIC is the central Slovenian hub of musical information founded in 2004. At that time, musical information centres were very popular in Europe. They served as a sort of link between musical scenes and the Internet environment, which, in those days, wasn't as developed and widely used as it is today. SIGIC was created on the initiative of the Society of Slovene Composers and primarily tasked with digitizing music scores and other physical materials, setting up databases, and presenting and promoting Slovenian musical creativity. As the Internet developed and our international connections increased as a result of our joining various international networks our ambitions grew. In 2011, we established our own musical webzine Odzven, which covers all genres of Slovenian music. We also entered the domain of event organisation. With SIGIC we are a co-producer of the MENT Ljubljana showcase festival and conference and main producers of Praznik Glasbe – the Slovenian version of the Fête de la musique. Today our sights are set chiefly on the world abroad.
Could you describe us a bit how the music market is in Slovenia / current trends?
First and foremost, the Slovenian music market is exceptionally small. There are two million Slovenes in total, and there are also very few Slovenian minorities across the globe. This doesn't make for the best conditions for music as a profession. We are also considerably behind in adapting to the digital leap that occurred in the global music industry. Spotify only recently made it to Slovenia. Other streaming platforms are around, but don't have local musical editors in our area yet. Free use of Youtube remains the far most frequently used method of music consumption. At the same time, Youtube copyright licensing is yet to be regulated here. On the other hand, our concert scene is exceptional. We have the oldest Jazz European festival – Jazz Festival Ljubljana; Tolmin boasts two world-renowned festivals: MetalDays and Punk Rock Holiday, both also exceptionally interesting to foreign visitors. We have Metelkova, one of the most attractive versions of alternative-culture and music squats in Europe. Slovenian concert venues are not large, very few relevant world-class stars find their way over here. On the other hand, our venues are extremely well maintained and provide highly professional concert conditions. The Slovenian concert-going public is reasonably well educated. The geographic location of Slovenia enables us to catch many bands on their tours as they pass nearby, which results in us being very well versed in current trends on numerous music scenes.
Is there an export office in Slovenia?
Unfortunately, our system doesn't regulate the presence of Slovenian culture and art abroad. This is precisely why we plan to break new ground and establish a model that won't only serve music but also other art forms, as well as, at the end of the day, state cultural politics. In 2019, we founded the Music Slovenia consortium with the aim to establish the music export office as a brand and as an association of all organisations and individuals possessing the social and financial capital important for the breakthrough of Slovenian music abroad. Under this brand, we jointly attend music fairs such as Womex and Jazzhead and publish compilations of Slovenian music. We also set up the Music Slovenia Internet site where you can find databases covering Slovenian musicians and musical infrastructure. We are also intensely working on educational events. We're aware one of the most important tasks bands with the potential to breakthrough abroad must undertake is to become export-ready. But it is also necessary to train others: publishers, concert organisers, managers, agents, as well as musical editors and journalists.
Which style of music do you think is easier to export from Slovenia to the rest of the world? Do you have examples of a few Slovenian bands/artists who've got some success in other countries?
We have musicians that are world renowned on their respective scenes: Laibach, DJ Umek, Gramatik, Luka Šulić of 2Cellos, Pertpetuum Jazzile … We excel on numerous boutique music scenes, which is probably our best bet going forward. We also have cards to play in contemporary classical music; composers, such as Vito Žuraj, Petra Strahovnik, and Nina Šenk; performing artists such as accordionist Luka Juhart; the experimental and improvisational scene comprised of Tomaž Grom, Irena Tomažin, Maja Osojnik… It makes me happy that it is mostly representatives of the younger generation who also work hard on the development of our local music scene. They open doors for others. I want to point out the band Širom. This is currently the hottest Slovenian group on the international scene. They play imaginary folk, build most of their instruments themselves. They work under the auspices of the world famous German record label Glitterbeat. Its program manager Chris Eckman of cult group The Walkabouts lives and works in Ljubljana. We are in close contact with him as well, he helps and advises us a lot.
What are your plans for the next year?
If it weren't for the COVID-19 situation, the year 2021 would have been key in exporting Slovenian music internationally. But we aren't discouraged, quite the opposite – due to the impairment of numerous international links, we will expand our activities gradually. First we want to establish lasting connections with our neighbouring countries of Croatia, Austria, Hungary, and Italy, and then slowly but persistently continue from there. We will make use of the current situation where social life is almost completely doomed to the internet and integrate Slovenian music in the digital environment as much as possible; we will also learn about the available tools across all facets of the music industry and seek out the opportunities to monetize individual activities within the digital world.
And finally, what do you think Groover brings to the music industry?
In my opinion Groover represents a very important piece of the mosaic in which, thanks to digital tools, the musicians have a growing number of opportunities to create and develop their musical careers on their own without needing to invest enormous amounts of money. Groover provides them with the shortest route with the least intermediaries to their potential listener, who will be prepared to pay for their music. Such listeners can be found in every corner of the world. This a particularly good sign above all for smaller and boutique music scenes as well as smaller musical markets such as Slovenia. On the other hand, Groover also enables the professionalization of music journalism. In Slovenia, for example, we are facing an ever shrinking media landscape for cultural and artistic reflection. Today it is very difficult to convince young people to seek employment as musical critics. Groover could supply them with the motive to start building their infrastructure as critics. Groover is therefore the argument that can help us impassion young people for the numerous occupations in the music industry as well as present them as internationally attractive and promising. We can understand Groover as the future of the international music scene, which will preserve and enrich its diversity, preserve its quality and educate its musical audience.