As you know, we are always looking for new tools, platforms and ideas that can add even more to our artists' careers. With this in mind, we have developed a very cool partnership with Palco MP3 that will certainly help develop your career even further.
Therefore, it is with great pleasure that we announce our newest partner: Palco MP3. Palco MP3 is a platform for independent artists with an audience of millions of users. Today, several nationally known artists in Brazil, such as Marília Mendonça and Barões da Pisadinha, began their careers with their profiles on Palco MP3.
Palco MP3 has now become part of our team of curators within the Groover platform, so they are now available to receive your track at any time. Make your submission here and receive feedback within 7 days and score great chances of special shares on Palco MP3's networks and platform.
So, we would like to introduce to not only the platform itself, but show you why Palco MP3 can be a great source for promoting your work.
What is Palco MP3?
Palco MP3 is a Brazilian platform focused on promoting independent artists from various genres of music: from forró and sertanejo to rock and indie. According to the platform, one of its main goals is to connect artists with people who are searching for new and diverse music every day. So, you, an independent artist who has just made your campaign on Groover, can sign up for the Palco MP3 platform to further increase your chances of success. Registration is free and gives you chances to be promoted within the platform in many different ways.
With over 18 years of history and 172 million downloads, Palco MP3 is already one of the most dominant and efficient platforms in the music business, promoting over 1,000 independent artists every month. Are you going to miss this opportunity? Sign up tp the platform here and score chances to be promoted.
Moreover, as previously mentioned, Palco MP3 is now part of our team of curators, so when you send your music to their profile, you will receive quality feedback from their curating team within 7 days and, if you have your track approved by them, you will get a special promotion that can come in several different formats (special sharing on Instagram, chance to have your track in playlists within the platform, interviews and special posts on Palco MP3's networks). Therefore, we recommend the joint service of Groover + Palco MP3, which is a great combination for the promotion of your music and career.
Send your music to our curators and pros on Groover here!
Get to know Palco MP3 by clicking here!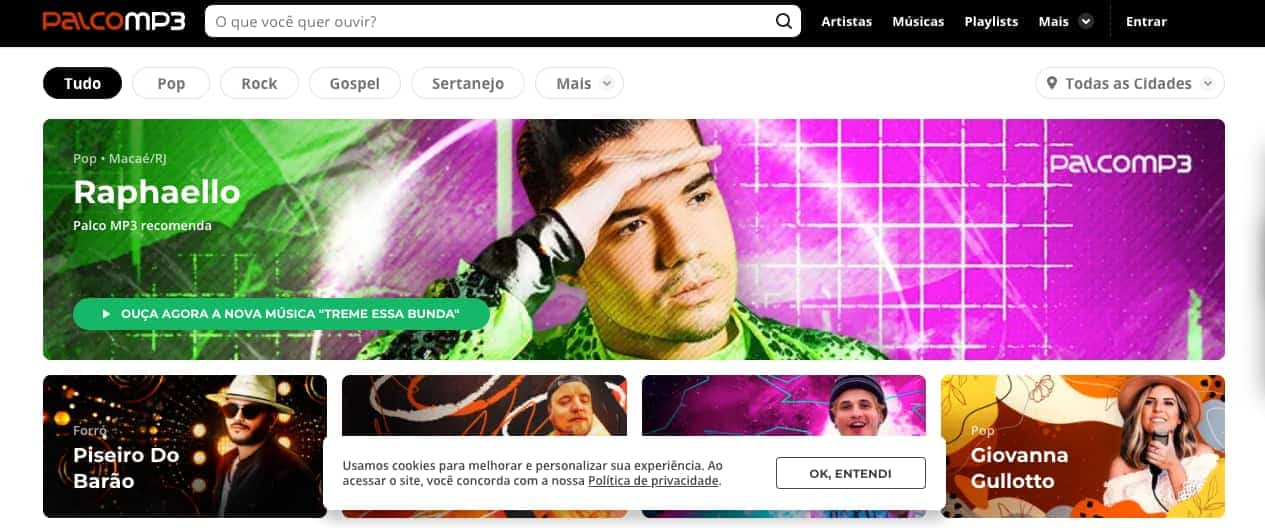 How can I use the Palco MP3 platform?
It is simple. When you register, you will build your artist/band profile as if it were a social media profile, since the platform is similar to the famous networks we are used to – but with the big difference being that it is for musicians and music lovers looking for new artists. It just doesn't get any better, does it!?
In your profile you can add your songs to be downloaded by the public, your release documents, promotional photos, news about your career, and also have access to very important data to keep track of your listeners and career, such as the number of plays, downloads and the number of people who followed you on the platform and became fans – the platform is a very complete service!
So, besides having the opportunity to be seen by the general public and also to be promoted for free by Palco MP3 itself when you complete your profile, the platform also works as a great tool for managing and controlling your career. In addition, they have an electronic service that allows the user to contact the platform on a daily basis to ask questions and solve issues.
Therefore, Groover strongly recommends that you create your artist profile on Palco MP3 to boost your career even further, since they promote the registered artists for free within the platform to a large audience passionate about music.
| Also read: Pianity and Groover partner to develop music NFTs
– Translated by Betty Gonzalez Gray –