Today, there is a large number of music streaming applications, such as Apple Music, SoundCloud or Deezer. But the Swedish company Spotify dominates the debate. Indeed, they control almost 50% of the market with more than 83 million premium subscribers. Very easy to use for consumers, the platform has also made available to artists some crucial features thanks to Spotify for Artists! Here are some tips for you to take advantage of this new tool.
1. Certify your account very easily
Before you start, it's important to note that, with Spotify for Artists, you can now have a certified account even if you don't have any subscribers. Just ask for access to Spotify for Artists. You can then get the famous blue checkmark on your profile!

2. Take care of your artist page
This is not the first time that we give you this piece of advice on our blog: whatever the platform on which you wish to promote your music, it is essential to make sure that your homepage is pretty to look at.
On Spotify, a beautiful profile picture and cover photo will allow your page to stand out and differentiate itself from others. Do not be afraid of colors! Even if new smartphones allow anyone to become a photographer, using a professional photographer ensures quality visuals and original content.
You can also post your next concert dates on your profile (if tickets are available on Songkick, Ticketmaster, AXS or Eventbrite), as well as all products from your merchandising!

Finally, you have a limit of 1500 words to write your artist biography, so use them at best (you can read the article to learn how to write a good biography to promote your music here).
To sum it up, you have to think about your own branding. You must try to create a unique identity through all these little details that will follow you wherever you go. What impression do you want to convey? This is the question you need to ask yourself.
3. Stay active on the platform and interact with your audience
Spotify for Artists has implemented many features that will allow you to update your page regularly. You can't release a new song every week? It does not matter, you can interact with your fans much more easily and keep them up-to-date or share music with them. A great way to get closer to and federate your audience.
Thus, the Artist's Pick feature allows each artist to highlight their music or the one they are listening to – or even their concert dates – on their profile. You can even write a note! This will boost your profile and make it more attractive to your current and future fans.
| See also: The 2 most important tips for musicians by Kevin Breuner from CD Caby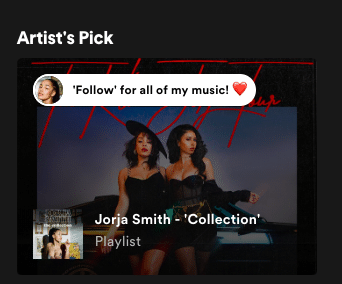 There is also a "Follow" button, which your fans can use to keep up to date with all your news. They will receive an email for each new release, and your tracks will appear in their "Release Radar" which is updated every Friday by Spotify. Encourage them to follow you!
4. Use the statistics at your disposal to understand your Spotify audience
With Spotify for Artists, you have access to numerous information such as the genre, nationality or age of your listeners and the cities from which your songs are listened to.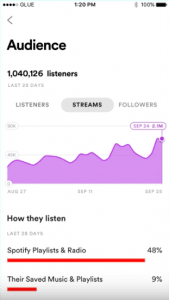 You can then implement a promotion strategy that matches your goals and ambition.
You also have access to a timeline and all the numbers concerning your music: you then know which of your songs are the most listened to, when and how. Finally, you are notified whenever one of your tracks are added to a playlist, whether it was created by Spotify curators, by the algorithm or even by users!
Follow these tips in order to better your odds to develop your project and bring it where you want. Remember that it is your music that will make the difference and that is what you need to work on first.
For more concrete advice on playlists, we recommend the guide for artists and playlist curators 👉  Work Hard Playlist Hard