As an artist, the moment you put your music on streaming platforms such as Spotify, SoundCloud, or Apple Music is an amazing milestone. It's the start of something new: your music will be available on a larger global scale than ever before! In this article, we dive into the ways Spotify for Artists, the largest of the players in the streaming services space, can be an asset to creators, and how to best utilize it.
Most Spotify consumption, both for ad-free listeners and for music subscribers, comes through playlists. These are three main types of playlists on Spotify: user-generated independent playlists, algorithmically-generated playlists (such as Discover Weekly, Radio, Release Radar), and editorial playlists. Platforms like Groover allow you to contact curators of user-generated playlists, which grow more organically, meaning that these playlists are shared by listeners and fans rather than advertised by Spotify itself (such as by being recommended on the Spotify homepage). These independent playlists can help artists increase in popularity, which gives them more visibility that can result in a Spotify playlist add. Similarly, being reviewed on music blogs can result in adds to Spotify playlists like Fresh Finds, whose content pool is generated in part by crawling blogs for up-and-coming tracks and artists.
The playlists on Spotify — outside of algorithmic playlists — with generally the most followers, are Spotify editorial playlists. These curated playlists are highly coveted given their massive audience. These playlists are advertised to millions of listeners across the app. Some of these playlists are a hybrid between editorial and algorithmic, meaning though the tracks are all selected by one individual, but they won't all be shown to every subscriber. Instead, based on each listener's taste, they will see a selection of those hand-picked tracks that are closest to their musical taste. This is important to note when sharing an editorial playlist you're on, as not all listeners will see your track – Spotify offers a way to "pin" your track to the top when sharing a link to it, though.
So, how can you get on a Spotify editorial playlist that can launch your career to new heights, and allow new fans to discover you (thanks to their powerful algorithms)? How can you increase your chances of gettin people to listen again and again, to get your songs liked and your artist profile followed so listeners get notified of your new-music and become lifelong fans?
Spotify, the reigning leader of music streaming
The numbers speak for themselves. Despite significant growth in competition (Apple Music, Amazon Music, SoundCloud, Tidal, and YouTube Music), Spotify remains the undisputed king of music streaming representing 36% of the market and with over 433 million registered subscribers (including over 188 million paid subscribers) as of September 2022.
Here is a comprehensive guide to getting the most out of Spotify for Artists, promoting your music, and increasing your streams and visibility.
1. Spotify for Artists: The Best Way to Gain Followers
Spotify is more than just a music service that pays out royalties when someone plays your track; it's a platform where music fans go to find new artists to love. When you put your tracks on Spotify, your fans can find your music from a number of paths, including by…
Searching for your artist name, album, or track

Streaming algorithmic playlist recommendations

Hearing your music in thematic curated playlists, such as genre or mood-based playlists (e.g. Study Beats, Songs to Sing in the Car)

Seeing your name/track on the Friends Activity bar (on desktop)

Re-accessing a track by you that they saved to their music collection

Receiving a notification about your newest release (if they follow you)
That's a lot of ways for people to find your music and for you to see your number of Spotify followers grow! As Spotify is a global platform with a "freemium" model, meaning it reaches both ad-free users and subscribers (including those on a family-plan), the reach is not limited to those who can afford a monthly subscription fee.
It's important to note that Spotify algorithms use a number of different inputs that can affect the reach of your music. For example, if an artist follows you, it guarantees that they will see your latest release in the algorithmically-generated Release Radar playlist, as well as in the "What's New" section (the bell icon on the top-right of your Home Screen). It also increases your chances that the track or album will be displayed on the top section of fans' homepages. Thus, encouraging artists to follow you on Spotify can be critical to expanding your influence.
That being said, streaming without following is still important! If an artist streams your tracks, they're more likely to hear your music across the app, such as in Artist or Tracks Radios, Discover Weekly, and Artist, Genre, and Mood Mixes. Though the algorithm is a "black box" in that Spotify does not exactly reveal its secret sauce, the playlists usually use factors like how much you've streamed an artist recently, whether they've liked the track or added it to a playlist, and whether your music is similar to other music they like. These factors help determine whether Spotify will show a listener your track in a playlist.
How your songs reach listeners depends on how you put yourself forward
You shouldn't expect algorithms to do your job for you: getting your tracks out there takes effort! In addition to promoting your music, it's important to showcase yourself. If your message and aesthetics aren't unique, you'll lose an opportunity to gain a new fan. Even if your tracks don't have music videos, creating a 3-second to 8-second looping video "Canvas" can help showcase who you are, and provide an entertaining form of content for listeners on streaming services. You can have a look at our article explaining how to create one.
Below, we describe more actions you can take on your own to gain new fans and increase your streams. Let's start with the first step: certify your artist profile with Spotify for Artists.
2. How to make a Spotify artist account?
Once your music is on Spotify, all you need to do is access Spotify for Artists to be certified and get the famous blue tick on your Spotify profile. No need to fill out a form or have 250 subscribers: verification is now available for all artists.
To claim your Spotify artist profile, follow these six steps:
Go to the Spotify for Artists homepage

Click on "Request your profile"

Select either the artist or the manager, depending on your relationship to the project

Copy the link from your artist page via the share button in the Spotify app

Enter the artist link in the search bar

Request access to Spotify for Artists and verify your identity by logging in to your music project's social network accounts
Pretty simple, isn't it? Verification times vary, but Spotify usually takes 2-6 weeks to complete the verification process. Once you've claimed your profile, you'll have access to all the statistics, promotional tools and profile customization options that Spotify offers. You'll be able to see your number of streams, analyze your audience, and find out who's listening to your music on Spotify.
3. Spotify for Artists: Some Tips for Completing Your Profile
A verified profile allows you to showcase your unique personality. Once you have claimed your profile, you will be able to upload your personal profile photos, a photo gallery, and a profile banner. In addition, you will be able to tell your story (maximum 1500 words) in your artist biography. Using a tone that's reflective of who you are can be engaging and fun for fans, so don't be afraid to be yourself!
Writing a music biography can be difficult, but there are a few things you need to cover to introduce your project to the person discovering your profile. Give your audience a brief overview of your background, your music, and a few words about your latest project. Excerpts and quotes from the press are also good options to flesh out your musical biography. Above all, don't forget to include links to your social networks so that you can be found more easily and grow your community of fans!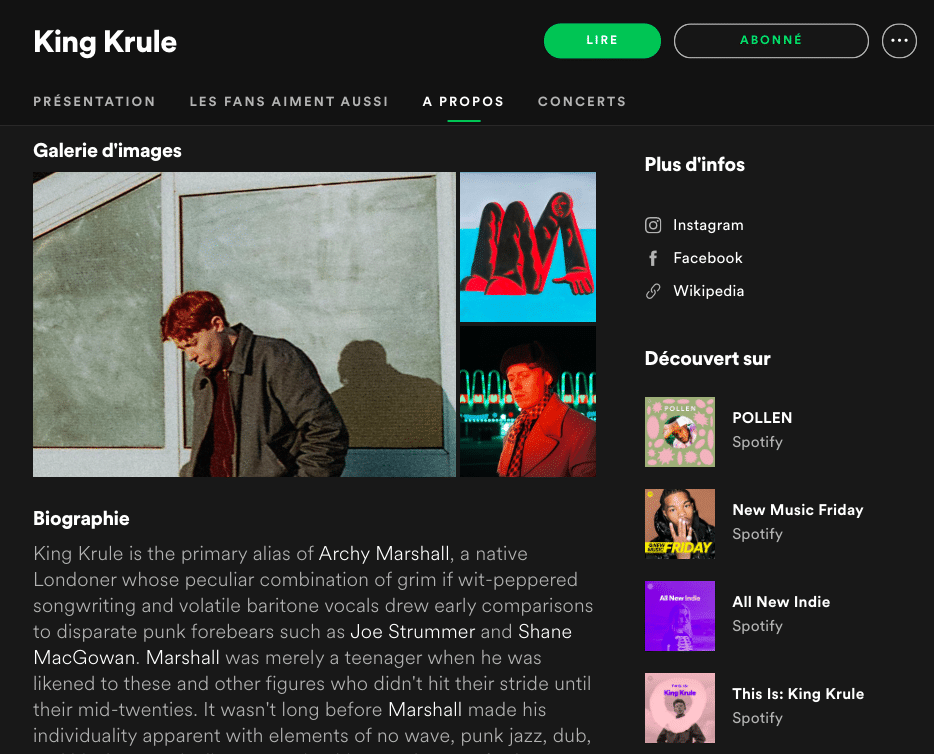 Your Concert Dates and Merchandise
One of Spotify's features for artists also allows you to enter the dates of your upcoming gigs directly on your profile and redirects fans directly to SongKick to buy the ticket. When a listener follows to your artist profile, they'll have access to your gig dates. In the Concerts/Live Events section of the Spotify app, people who have streamed your music are likely to find your upcoming shows listed.
You can also include visuals and links to your merchandise. Keep your information up to date and you'll hopefully sell more concert tickets, merch, and vinyl. These provide a great supplementary means of income to music-streaming, as royalties from streaming alone can be hard to sustain a career if you're just starting out.
The "Artist's Pick" Feature
One of Spotify for Artists' main features — and certainly the most strategic for you to update regularly — is the "Artist's Pick". This feature gives you the possibility to choose a song, an album, your next concert date or a playlist to pin to the top of your artist page with a short message. This is your opportunity to personalize your profile and share your inspiration or simply your "hot news".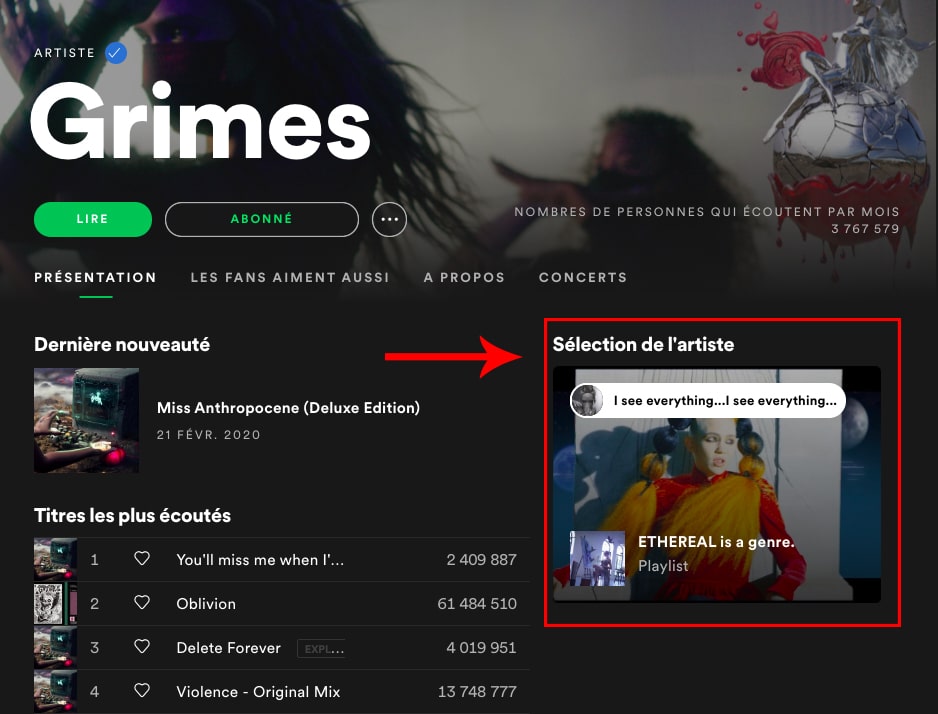 The "Artist Playlists" Feature
You can also curate personal playlists called "Artist Playlists", which allows you to gather all your inspirations of the moment as well as your top tracks in one playlist. Fans who search for you often enjoy understanding what's inspired you, just as you likely enjoy knowing what your favorite artists are jamming to!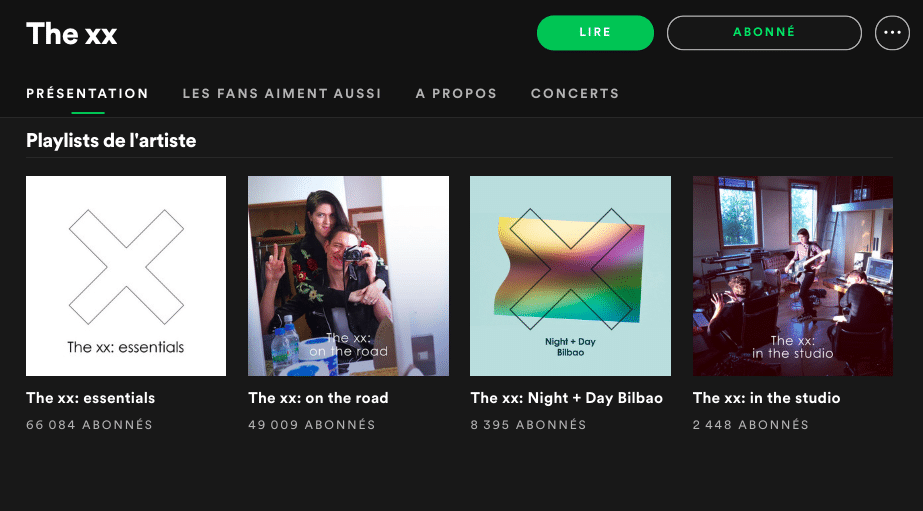 These tools are designed to encourage your fans to keep coming back to your profile. But they only work if you update them regularly.
4. Promote your Tracks Intelligently with Spotify's Data Analysis for Artists
Knowing the details about who is listening to your music and where it is being listened to is important when planning an album launch, tour or digital marketing campaign.
It is understandable as an artist to put musical creation before anything else, but that doesn't make it any less important to understand how your music is spreading. And it's especially worth it if you want to broaden your audience. Like similar tools being offered by Apple Music and SoundCloud, Spotify for Artists help you understand how your fans interact with your music.
You can export some Spotify for Artist statistics as .csv files and get :
Chronological statistics in

Audience

Your table of songs in

Songs

Your table of featured playlists in

Playlists
IMPORTANT : The number of streams on Spotify is counted when a song is streamed for more than 30 seconds.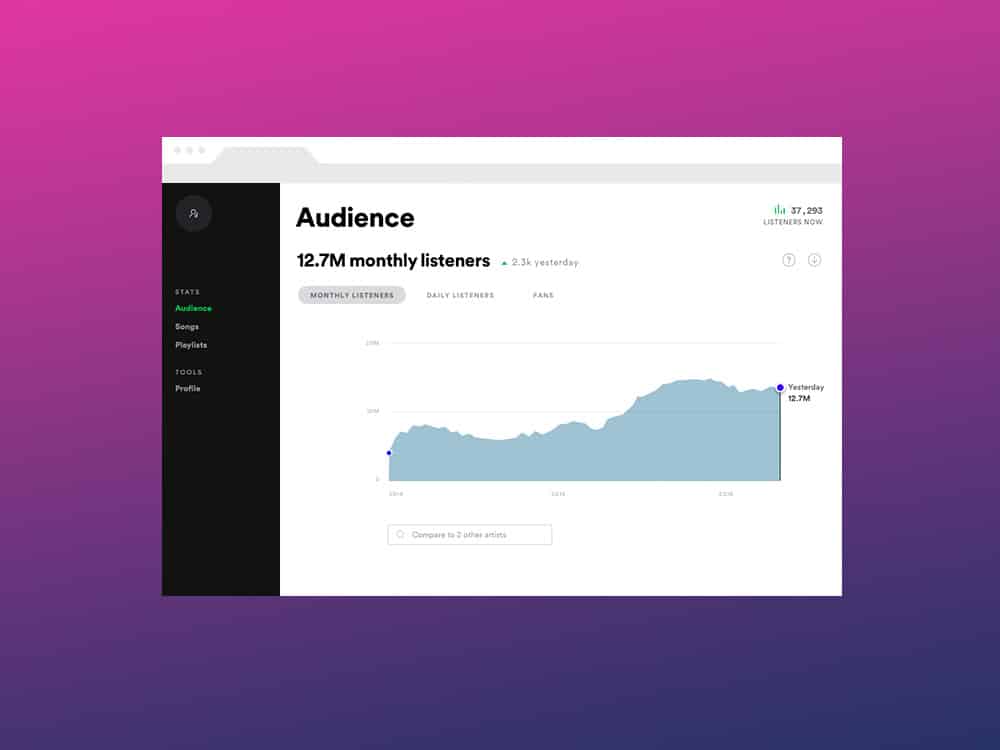 Thanks to Spotify for Artists, you can also:
Get an overview of your monthly and/or daily listeners

Analyze the engagement of your fans

Know who's listening to your music

Know how people listen to and discover your tracks

Discover where your fanbase is located
It's extremely valuable to know where your music is most popular, where you're expanding your audience, what songs people like most, when you're added to playlists or when your listeners press the "play" button. Of course, it's even better if you can get your statistics on all streaming platforms, so make sure you check out SoundCloud and Apple Music Analytics, among others, to get the full picture.
Knowing where you're getting traction can help you understand where to tour, who to pitch to, and can even give you ideas as to how to expand creatively to meet a new market of fans. Given how global music is, it might surprise you how many fans aren't just local to you!
We suggest using the data to look into the following (among other things — the possibilities really are endless!):
If you're growing in a region, start pitching to blogs, playlists, media outlets, etc. in that area to build the momentum – you can do this easily on platforms like

Groover

If you're a touring musician, consider playing gigs in areas where you're most popular. Not only will you sell more tickets and further spread your name, but you'll have incredible experiences seeing packed venues in areas that aren't your hometown!

Look for festivals in nearby areas to where there's hype around your music (On

Groover

, you can apply free to springboards that can enable you to play at festivals worldwide)
👉 All the independent Spotify playlists available on Groover are listed here
5. Understand the Challenges of Streaming and Master Tools like Spotify for Artists to Gain Subscribers
Two decades ago, downloading music to one's music library (and, sadly, pirating music as well) was extremely popular. iTunes and Napster were only overtaken by Spotify and streaming services in the 2010s, meaning that streaming is truly still a developing landscape that will continue to change over time. It's important to keep yourself up-to-date on what new things Spotify introduces or changes, since it can have a big impact on your career as an artist.
Given the magnitude of the shift from physical music, downloading mp3s, and listening on radio-stations to streaming music online, many people have strong opinions on Spotify and other similar services. Streaming platforms and digital distribution are very hot topics in the music industry right now. But whether or not you're involved in the debate, the reality is that these platforms can connect you to new listeners.
No matter how much you earn per stream, you should always think about how your project will connect with your listeners and create new fans. Taking advantage of the marketing and promotional tools offered by platforms like Spotify for Artists is a great way to stand out from the crowd and make yourself known. A good way to connect with new fans is also to add lyrics and canvas on your music on Spotify.
We also recommend using Groover to connect with independent playlists, reach new audiences and earn streams. You can track your independent playlist entries directly on Spotify For Artists to see how these playlists are expanding your audience 😉
– Article written by Amy Cimpaye in its original version, translated by Mackenzie Leighton –
—
Next articles:
> How to submit music to playlists?
> How to use Spotify Canvas to add looping videos to your music?
> How do I get featured on Spotify's editorial playlists?
> How to grow your own playlist and gain followers?
> How much do artists get paid on Spotify?
> How to get on Spotify playlists?
To go further:
> 7 Tips to stand out from the crowd and get more streams on Spotify
—