One of the big challenges for artists today is to get featured on editorial playlists (those created by streaming platforms) to reach the largest number of listeners. And yet, the question remains: how do you stand out in the mass of daily music releases?
According to Spotify, 70,000 songs are released every day, but 25% of the tracks are never listened to! While music distribution has become more democratic, how to stand out among thousands of songs has become even more obscure. That's why Groover has arrived to help you in this challenge! Groover's role is to act as a bridge between the artist and the independent playlist curators, who play a key role in promoting music and accessing Spotify's editorial playlists.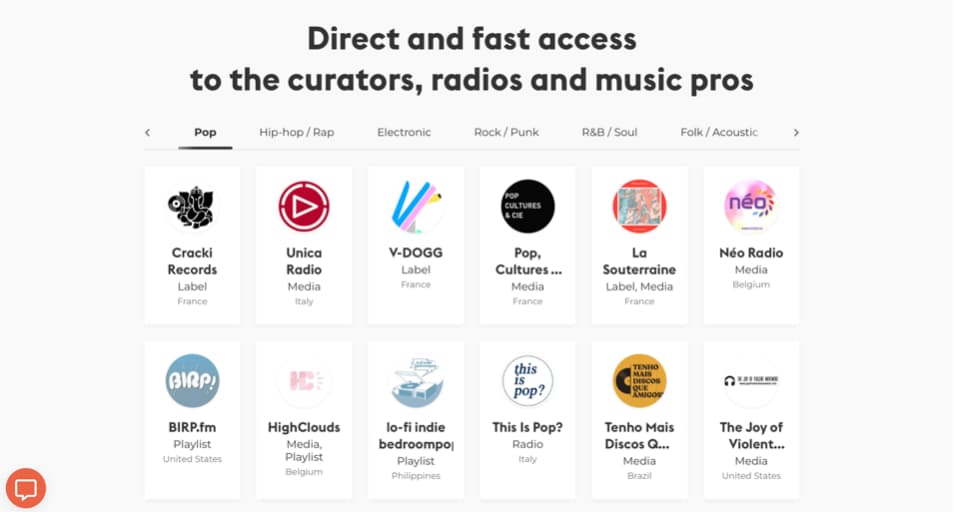 Platforms like Apple Music and Deezer also provide tools to integrate your music into their editorial playlists, but they are not as optimized as Spotify for Artist.
1. What are editorial playlists?
Firstly, editorial playlists are playlists created by Spotify staff. While there is a growing trend towards algorithmic (automatically generated) playlists, Spotify curated playlists are still prevalent and take into account the entirety of your music project before including any of your songs in one of their playlists.
There are different types of editorial playlists: large playlists, smaller playlists, playlists based on mood, feelings, music genre, country, etc.
2. Why are editorial playlists so important?
Editorial playlists can have a huge impact on the number of likes and listeners, largely because Spotify values these playlists more than independent playlists (so-called third-party playlists).
Another important point in understanding the development of editorial playlists is that a playlist gains volume and relevance when it has more listeners, i.e. when people come back to listen to the playlist regularly. The composition of playlists will therefore most often be based on the repetition potential of the songs.
3. How do I get my music added into Spotify editorial playlists?
3.1 Are you a well-known or established artist already?
This scenario is probably less common for the majority of artists who read our articles. However, if this is the case for you, your music has a great chance of being placed directly in playlists simply because you already have an audience. Spotify will be able to detect your music much more easily.
3.2 Does your label/distributor have a close contact within Spotify?
A more common way to be featured in editorial playlists is to have your label/distributor send your music to the Spotify team. A label or distributor that manages multiple artists usually has closer contact with streaming platforms and some of their members of staff. We recommend that you send them your music, artwork and all the info in advance so that they can get in touch with Spotify in the best way. But always keep in mind that nothing is guaranteed, even with a label or distributor.
3.3 Launch a campaign on Spotify for Artists
Spotify for Artists is the most common way to get into Spotify's editorial playlists, especially when the artist is still in the early stages of their career. On the platform, you fill in the important information about your upcoming release and you pitch your song yourself. The pitch is the text you will write to present your music. It doesn't guarantee your entry into the editorial playlists, but some details make all the difference.
Below are step-by-step instructions on how to write a good pitch and increase your chances of getting into Spotify's editorial playlists:
Verify your profile on Spotify
It is important that your Spotify profile is verified (a blue check mark next to your name). This is important in order to be able to write your pitch and use all the tools in Spotify for Artists. Spotify allows all artists to have their profile verified, just ask for it.
Upload your songs to streaming platforms
Whether it's you as an independent artist or your label/distributor, upload your track at least 15 days before, if not 1 month before. As soon as your release is scheduled, you will be notified and can try to get into the editorial playlists on Spotify.
Information about your music
Important: If your goal is to export your music internationally, consider writing your pitch in English.
Make sure to include the following information about your music:
Instruments used in your tracks
Type of recording: studio or live?
Mood
Style
Musical culture (Latin, African, Celtic, etc.)
Is it a cover, a remix or an instrumental piece?
Location
Subgenres (select 3)
It is essential to fill in this information carefully. It will direct your music to Spotify teams that are more or less receptive to your music. Therefore, giving them accurate information will make their job easier and increase your chances of being featured in Spotify's editorial playlists.
Last but not least, the pitch of your song(s) should be a maximum of 500 characters. This means you need to be concise and to the point. We've put together some essential tips to keep in mind when writing a pitch on Spotify for Artist:
Don't write a bio!
Write in the language you want your main market to be (write in English if you're not quite sure or want to thrive internationally)
Be objective: talk about your music and your release, tell the story of your song and what it conveys.
Indicate the important points of your music promotion strategy: publicity on social networks, press relations, new releases, merchandising, concerts/tours, etc.
Relevant figures (streaming, followers, Youtube, …)
Present your music project in the best light, but don't exaggerate either
Finally, don't forget that Spotify for Artist receives thousands of playlist requests per day. Your main goal when pitching your song directly to Spotify is to show them that you're invested in your musical project.
Don't hesitate to talk to artists and labels/distributors who have had good experiences to find out how to increase your chances of getting into editorial playlists on Spotify. Ask around, take the time, be creative and send it to others before you send your pitch, as you can only pitch your song on Spotify for Artist once. Good luck 🙂
– Translated by Betty Gonzalez Gray –
—
Next articles:
> How to submit music to playlists?
> How to use Spotify Canvas to add looping videos to your music?
> Spotify for Artists: The Ultimate Guide to Boost Your Streams
> How to grow your own playlist and gain followers?
> How much do artists get paid on Spotify?
> How to get on Spotify playlists?
To go further:
> 7 Tips to stand out from the crowd and get more streams on Spotify
—