YADAM is a multicultural and trilingual artist who breaks down all kinds of barriers that he is faced with. He is an honest and sincere artist whose innate transparency is very present and highly valued in his music. Mixing aspects of pop and soul music, he presents his latest project "SAFEPLACE". We had the pleasure of speaking with him and learning more about how Groover has helped him achieve international press opportunities, as well as reach new audiences around the world.
Groover has helped me out a lot! Being an independent artist means not having direct access to a lot of press. Groover allows us to break down those barriers and limits imposed on independent artists.

– YADAM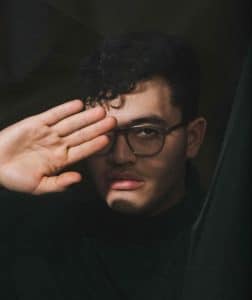 YADAM, for those who don't know you, how would you present yourself as an artist and describe your style of music?
For those who do not know me, my name is YADAM, I am a multicultural and trilingual artist, born in Venezuela but currently based in Paris. My style of music could be described as a mixture of pop and sentimental alternative soul. I explore the notions of melancholy and hope quite a bit. I love that everything is linked to a concept and making sense of each song in order to create a great story.
What three words would you use to describe yourself?
Nostalgic, Honest, Resilient
What artists have inspired you the most?
There are many artists that have inspired me, for example, BANKS, Ry X, Lorde, Christine and The Queens, Carla Morrison, Billie Eilish, etc.
YADAM, can you tell us a little about the trajectory of your career from the beginning until now?
I started writing and composing music in 2018, after having participated in a popular singing competition in France called "Nouvelle Star". I came to France looking for a new opportunity, but I never thought it would be in music. My first EP "SAFEPLACE" came out at the end of February 2020 just when the pandemic started. Fortunately, the pandemic was well received because I was able to rest after the album's release and after more than 10 concerts in the previous months (opening for shows by artists like Carly Rae Jepsen, Sofi Tukker, HRVY) and already had a following due to my being on TV two years prior. In October 2020, I released my single "CARRERA" with French producer Brokenstra and it was used for the APPLE Keynote in April 2021. A month later at the end of May 2021 I decided to release a new version of my first EP "SAFEPLACE (SAFER EDITION)" with the song "Nada Es Seguro" and thanks to that I managed to feature on the cover of the LATIN PRIDE playlist on Spotify.
Talk to us about your most recent project
"SAFEPLACE" (and its "SAFER EDITION") consists of 8 songs (some in Spanish, English, or French) that summarize, in some way, what I have lived and experienced in these 20 years of my life; a life full of so many unexpected changes. The "SAFER" version allowed me to deepen my heart and explore issues like my sexuality or fear of never seeing my family again or failing in music. I think it's a very personal album but, written in a way that many other people can identify with, whether they are immigrants, queer, or people who have also suffered brutal separations and / or changes.
| Follow him on Facebook     | Follow him on Instagram
What are your plans for the future?
Two words: Shows and ALBUM. I'm looking forward to live music coming back and finally being able to sing my songs live. Meanwhile, I have already written the songs for my new album, I just need to produce them and work on everything else as well!
What advice would you give your younger self? What advice would you give to an artist just starting out?
The only advice I would give my younger self is to keep dreaming and working; I would also say that little by little things will happen and that sometimes, even without even knowing it, we are working towards something that we will love later on. Everything always comes at the right time and when we least expect it.
And if I could give one piece of advice to an artist starting their career, it would be not to try to do things too quickly or easily, take your time, and appreciate the process of creating and sharing your music. Which is simultaneously very beautiful and crazy experience, so you have to persevere.
What do you think of Groover? How has it helped you?
Groover
has helped me out a lot! Being an independent artist in France means
not having direct access to a lot of press.
Also, being an artist who sings in Spanish and English also adds more difficulty to gaining press opportunities if there is no major label behind you.
Groover allows us to break down those barriers and limits imposed on independent artists.
And I am really grateful that I have managed to get into playlists in India or Japan and do interviews in Brazil and even in Paris!