Digital distribution of your music or how to make your music available worldwide on streaming platforms?
On September 3rd, Groover's co-founder Dorian Perron was live on Instagram with Marcos Fuentes, Head of Content Operations at Amuse, for our 3rd Groover Tips Workshop. Be prepared for 1 hour of tips and methods to optimize your distribution and release.
In this Workshop #3,
🔥

Groover Tips

explored the topic of Digital Music Distribution 🔥
When we talk about music distribution today, we mostly mean getting your music on streaming platforms like Spotify, Deezer, Apple Music, etc. Digital music distributors such as Amuse, Spinnup, Tunecore are a quick and easy way to make your music available worldwide in just a few clicks.
Making music is good. Being listened to is better… Being listened to all over the world is even bette… Getting noticed thanks to digital music distribution is the must! Of course, mastering digital music distribution is not sufficient in itself, but it is essential to only give yourself a chance. To do so, it is essential to know the different distribution platforms and to engage with the digital distributor that you think is best for your musical project. In this live with Marcos Fuentes from the digital music distributor Amuse, we explored a few methods and tips that should be very useful to you when developing your distribution strategy to streaming platforms.
The topics discussed during the live :
---
1. What is music distribution?
Previously it was mainly physical sales – cds, vinyls, etc. – that were sold. But this time is over and most of music distribution takes place online.
Publishing your tracks on Spotify, Deezer, Apple Music etc. is a must. And to do so, you have to go through distribution services such as Amuse for example, iMusician, Spinnup and more.
2. What are the requirements before you distribute your music?
– Make sure your track is produced to the highest quality – including mixing and mastering. Does the rendering match your expectations?
– If you use samples, make sure you have the rights to them.
– Artwork – your visuals, images and photos (3000 px, square images)
| See also: 5 Mixing Tips: how to make your music sound good
3. Question to Amuse: do you listen to all the songs or does an algorithm take care of it?
"Both, we feel that the machines are not able to determine 100% if a song is good, so we listen to everything."
4. How do I add lyrics to Spotify?
You can use the Genius service.
Please note that Spotify selects lyrics that are important to their service; so not every young artist will be able to access this little bonus right away.
5. What is the perfect timing to prepare your distribution?
If the artist is in a hurry because the release of his track/EP/album is already announced, you'll have no time to pitch it to the playlists.
For the rest, 2 weeks before is a minimum to release your music with Amuse. This allows a room for maneuver to make sure the release goes well. Platforms also like to have 2 weeks more to listen to the song, get the song into playlists, etc.
Once you've made your choice of digital distributor, it's best to allow for one month/four weeks to organize the distribution of your song, before its release date. This will avoid last minute surprises and will give you all the chances to maybe get into playlists and be spotted.
6. What is the best strategy to pitch playlists and get spotted?
For Amuse there is no magic recipe, it's very random according to the artists.
For the rest, Spotify for Artists is the place to be. When you pitch your song, it's highly recommended that you describe it accurately: the sound, the mood, the style of your music, and so on.
Don't be afraid to be too specific, you won't close any doors. It is not easy but no less important to know which style your music belongs to, or a mixture of two styles if this is really the case.
If you're too blurry or if you're missing the point about the style of your music, you may unfortunately not be able to touch anyone. So, don't hesitate to contact the playlist curators directly by email or via Instagram, and don't forget to be nice and write a personalized message. Working on your storytelling is never time lost.
Keep in mind that if your first tracks don't work as you imagined, it doesn't matter! Just keep "doing your thing". That's the most important.
| Read also: Music Promotion & Playlisting Tips With Groover Co-Founder Dorian Perron on Amuse Blog
7. Amuse can spot artists and sign them on its label, how does it work ?
The stats provided by Amuse's algorithm helps them spot the songs that work well on the streaming platforms. But, once again, they listen to all the tracks distributed through their service, everywhere in the world, even completely unknown artists.
When they spot an artist, they then contact him/her and propose a tailor-made support offer. For a young artist, the target could for example be to develop his/her career abroad. For a more established artist, the idea could be to sign him/her for their next album.
Their advantage as a distribution platform is to be able to spot very quickly the tracks that have potential.
Anyone can switch to a pro account on Amuse.
For labels, managers, etc., this allows you to add several artist pages – up to 50 – to your pro page, and also to distribute to more streaming platforms as well as Instagram Stories and TikTok.
9. How to get into an Amuse playlist?
Just send your track to Amuse. In the case of a crush, no matter how famous you are or where you come from, you could potentially find yourself in their playlist or even be featured on their social media accounts.
Smart links are very important to make sure that everyone has a quick and easy access to your music on any streaming platform. To create them, you can use for example Snipfeed, Toneden or url.bio.
Special offer for Snipfeed : Create your smart "link in bio" for free, customize it as you wish and add cool features such as the possibility to ask for tips!
By following this partner link, you will have access to special features for Groover users and a 10% commission rate on received tips (instead of 20%).
Adding your smart link or bio link to your Instagram bio is a real advantage.
Read also : Smart links: share your music all in one place and analyse your fans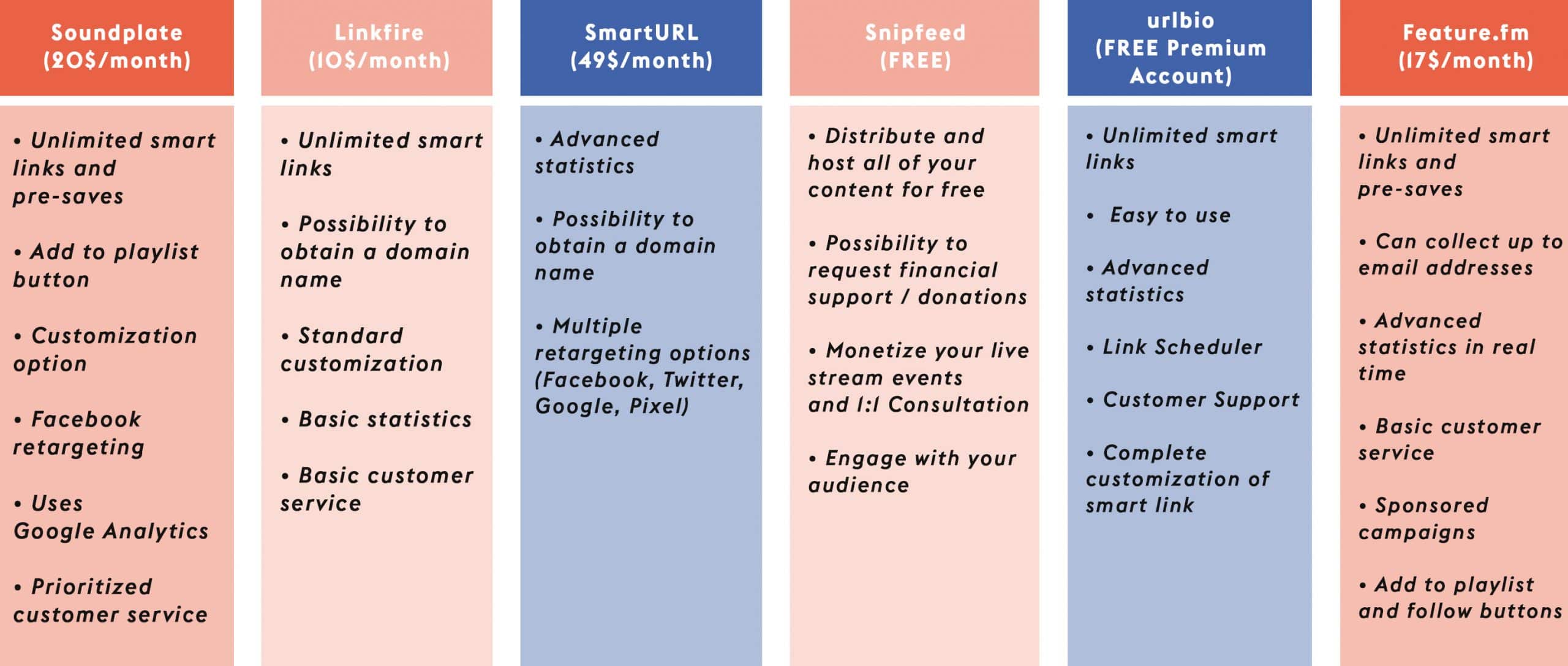 11. Answers to some of your questions during the Instagram live workshop
– How do I change my artist name on Spotify? To change your artist name on Spotify just write to Amuse, it's usually quick and easy.
– Does Amuse allow you to distribute your music on Youtube Music? YES
– How can I get an official artist page on Youtube Music? You must have released at least 3 tracks with Amuse on Youtube Music. Then you just have to contact the support of Amuse and ask for it. There may be a delay before it's approved.
– How to appear on the radio? Contact the radios by email or on Instagram. You can also use Groover.
---
That's it for the recap' of our 3rd live workshop on Instagram, we hope to have given you all the weapons to distribute your music better on streaming platforms and increase your chances of being spotted when your song is released! We look forward to seeing you soon for a new live on Instagram and a new topic, don't hesitate to follow our Instagram account so you don't miss it 🙂
To find out more on getting into playlists you can read our article The Ultimate Guide to boost your Streams on Spotify in 2020