When it comes to recording your songs in the studio, how can you be sure to choose the right one? The one that fits your music and you will feel comfortable in. A bad choice of recording studio can be costly, both financially and artistically.
Questions you should ask yourself:
On the practical side: what is my budget? If you are a group, is the studio big enough? Do I need multiple isolation rooms? Where is it located? If the studio is not in your city, are there hotels, restaurants and entertainment nearby? What equipment is available? How much time should you allow for yourself?
In terms of inspiration: Do you like the atmosphere in the studio? Do you like the acoustics of the rooms? Will you be comfortable playing there? Is there a space to relax?
Groover gives you some tips to help in the decision making process:
1. Studio Budget
Obviously, your budget is one of the first factors to consider when you want to record in a studio. Keep in mind that the cheapest rates don't always mean the worst quality, nor do the highest rates guarantee the best results. The key is to know what to expect and to make sure you are comfortable with it. It's important to define your budget in advance. Plan for the unexpected by including an extra 10-15% in your budget – you may need more time, extra equipment, a breakdown, etc.
Ask yourself the right questions: Will you need to hire session musicians? Will you need a personal sound engineer? Do you plan to rent instruments/amps? Make sure that all these elements are factored into your budget, as you will often need more than just a studio with good acoustics for a good recording.
💡 Some recording studios lower their rates during off-peak hours, so don't hesitate to ask if your budget is tight.
💡As an emerging and/or independent artist, try to get the most out of every investment. For example, you might decide to film the recording for visual content and maybe even film a live studio session to use as a music video.
2. The location of the recording studio
Nowadays there are a lot of recording studios, so you shouldn't have any trouble finding one near you. However, depending on the city you are in, a bit of a commute may be necessary if you are looking for a specific sound/acoustic. You may also want to get away from home to get away from everyday distractions. Recording somewhere away from home can allow you to focus solely on the project for a time.
So the location of the recording studio is something to define from the beginning, how far you are able to go. This will help you narrow down your search, so that you only have to look for studios within a well-defined area.
3. Sound and Equipment
Now that you've set your budget and know how far you're willing to go, focus on the equipment you'll need and the type of sound you want.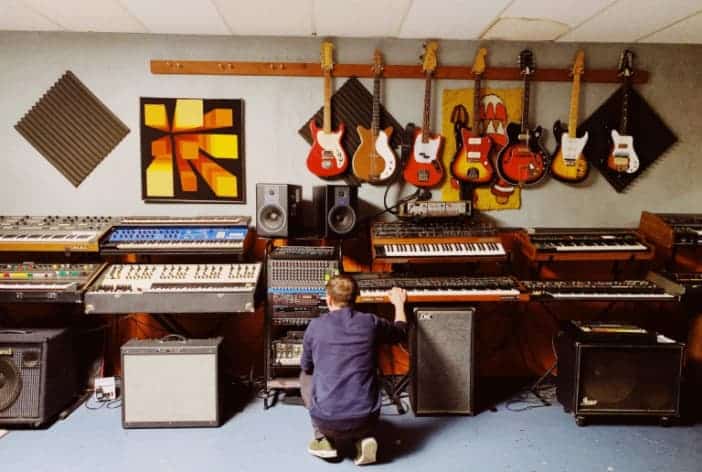 Listen to studio recordings of your favorite bands and try to determine what you like about the recording itself. Then compare that with the studios you've selected.
Most recording studios have a page, website, SoundCloud or sites, that contains sound samples. If not, ask them by email if it is possible to listen to sample recordings of bands whose style is close to yours. In general, as long as you are serious about it, they are willing to help you with the difficult decision; is this recording studio right for your music or not?
💡 Keep in mind that it is easy to add reverb in the mixing process, but almost impossible to remove it if it occurred during the actual recording due to poor acoustics.
Most recording studios provide or rent basic equipment. Make sure you get what you need. Is the studio's recording equipment professional and of high quality? Is there any vintage equipment available? Again, feel free to check their website or ask them directly by email or phone.
Today, most music studios have gone digital, but a few still have analog equipment. If this is important to you, look for a recording studio with these capabilities.
4. The sound engineer
If you don't work with your own engineer, get to know the studio's engineer. Talk about music, your respective influences and experiences, how you want to sound and how you can work together effectively.
If you want to know what a recording session is like, check out Hedayat Music's article on the subject 👈
Each sound engineer has their own way of working. Their style and experience will have a big impact on your recording. And it's not just about knowing how to operate the recording studio equipment or how to edit the music tracks. The sound engineer must be someone you trust and feel comfortable working with since you will be in that music studio for a few hours or days. To find a good sound engineer you can ask around or look at who has recorded your favorite songs. Many studios have a list of clients on their web page. Don't hesitate to contact them directly to see if they liked working with a certain sound engineer or not.
5. The time to record in the studio
Too often, musicians enter a music studio for the first time thinking they can show up at the studio early in the morning and walk out with a 12-track album recorded, mixed and mastered by the end of the day. It's unrealistic; even trying to achieve that would end in a very disappointing session. While each project is unique and does not require the same amount of time, don't be afraid to ask the sound engineer for a time estimate to get organized. Having your equipment, being well organized, and most importantly, having rehearsed well beforehand will go a long way in minimizing the time spent in the recording studio – the idea being not to waste a single minute while you're there.
6. Do your research
Now that you know your budget, you've defined the location and you've determined the equipment, musicians and technicians you'll need, it's time to go visit the few recording studios that meet your criteria. Call them and set up an appointment. You can also ask for references – bands, artists, producers and engineers who have recorded there.
7. The Reputation of a Recording Studio
The best recording studios have a history and are often well known for having a "signature sound". Unfortunately, these music studios are not easily accessible to independent musicians, but if your budget allows for it, don't hesitate to at least try. There are also potential marketing benefits. Having the name of a famous studio on your EP/Album can enhance its credibility with music industry professionals.
Otherwise, there are many other famous and less-famous studios that are open to everyone and also offer a particular sound, so you are spoilt for choice.
8. RekYou – The music production platform
RekYou is a music production platform that allows artists to benefit from services dedicated to music creation, such as recording, mixing, and mastering thanks to its large network of recording studios, engineers and sound professionals.
The platform lists the largest number of recording studios in France and allows you to book professional or private recording studios (home-studio) according to your needs (budget, musical style, availability, geographical location, sound engineer's skills…).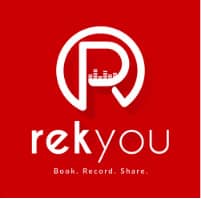 There is also another platform – Studiomatic – which offers studios open 24 hours a day, where you can access them autonomously thanks to the reservation, payment and accessibility features all done through your smartphone. An innovative experience without any time constraints.
All their studios are fully soundproofed, equipped with high-end equipment and offer unlimited subscriptions. Subscribers will also receive benefits and discounts from Studiomatic's affiliated partners.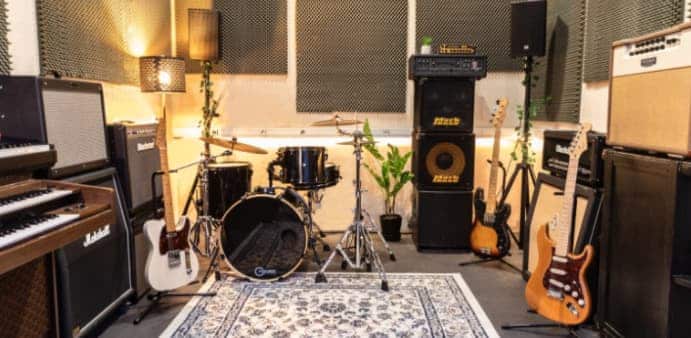 To conclude on choosing the right recording studio, don't hesitate to take your time. Get in touch with the music studios you are interested in and ask them questions. In the end, your research, thoughts and intuition will lead you to an ideal studio experience, so don't neglect the importance of this work done beforehand.
– Translated by Betty Gonzalez Gray –
Next articles:
> 5 Mixing Tips and Tricks: How to Make Your Music Sound Good
> Audio Mastering: What is it and where do you go for a professional result?

To go further:
> Build your musical project and attract the interest of pros and fans