Groover has allowed us to reach new audiences overseas and even on our own shores, in Australia!

– Dan Howls –
Dan Howls, how would you describe your music?
Alt-blues-rock if I had to pick a genre. It definitely draws from the blues but we love to put our own spin on it. Gleaming guitars, big rhythm section focussed around big vocals.

What got you into music and who are your biggest influences?
Both my parents were musicians when I was growing up and then my best friend in high school loved music and playing in a band so they would be the people who got me started for sure!
I grew up in bar booths napping while my folks played til late in the evening and formed my own band with my bestie when I was 13.
Tell us about your creative process?
For me my process is organic to begin with. I'm inspired by travel so a lot of ideas happen on the road and I record them on a voice memo. I'd come up with the melody and lyrics and then take it to the band to workshop. I find that they evolve best through playing them live as we gig a lot in Australia, the crowds reactions help us gauge how the song should flow.
Talk us through Fever Chills, what's the meaning to you?
Myself and another member of the band Julia were touring in India and Julia got extremely sick in a matter of hours. We were locked in a guest house til dawn and I was genuinely worried for her life.
I stayed awake all night checking on her fever until sunrise when I could find a doctor, and in between checking on her I started writing this song. It's meant to represent the state of your mind when you're feverish and sick. Lucid and a little crazy.

Your band, sometimes described as 'the wayyy huge band', how did you guys come together, and what's it like working together?
Haha, it's been a journey working together. Musicians can tend to be not the easiest to work with sometimes but we do love each other and have learnt to tour a lot better together over time. The boys bring so much to the music. They're the drive, the heart of the band. They make it a party instead of a listening show. I met Julia at West Australian's Burning Man (it's called Blazing Swan) when she hitchhiked on my motorcycle. The other two boys we met through friends in Fremantle.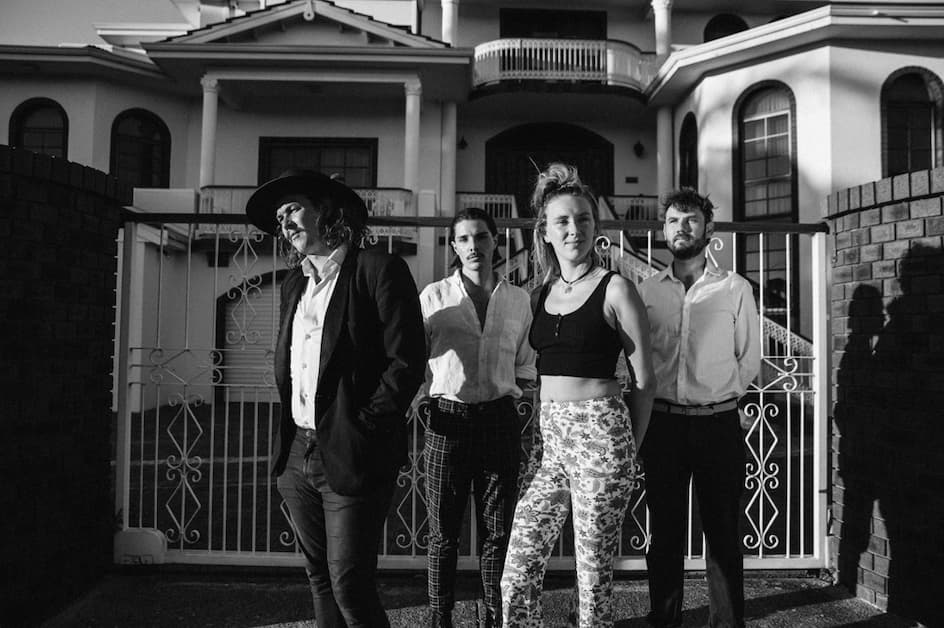 Do you have any upcoming shows?
Yes! Too many to list in an interview but yes we're playing festivals and headline shows in Australia until November. Then, if the world allows, possibly looking at touring Europe. If you Groover people know anyone that's keen to book us please let us know 😉
| Read also: How to find concert dates? 5 tips for playing live!
What's your next move in your career, are we to expect another album from you?
Absolutely! We are releasing our next single in September and then the new album early 2022. It's been a big year of writing for me so I need to get straight back in the studio once this second album is released and start on the 3rd possibly.
| Follow them on Instagram
Dan Howls, what do you think about a tool like Groover to promote music?
Groover has allowed us to reach new audiences overseas and even on our own shores, in Australia! It's been great to see our streams and downloads increase after each campaign and most importantly the amazing support that curators have sent through. We love the detailed feedback and the fact that we can create long-term relationships with Groover influencers.
To have guaranteed contact with labels, mentors, and other industry professionals start using Groover now!