With 1 billion monthly users, Instagram is one of the most active social media. By focusing on visuals, it really differentiates from platforms like Facebook and Twitter. This results in higher engagement rates, with an average of 2 to 7%.
Instagram is especially relevant for the entertainment industry and regularly rolls out new features that can help artists. Whether you're already on Instagram or wonder how to start, these tips will help you to make the most of this channel!
1. Network with other users
Like on any social media, likes, follows and comments are the basics steps to develop your Instagram account. When launching your account, you should obviously start following people you know. Instagram makes it easy by suggesting your Facebook friends. You can then follow all artists, record labels, agencies etc… in your music universe.
One of the major strengths of Instagram is the ability to start conversation from Stories. When someone posts a story, you can reply to it and start a private conversation. This a great way to exchange with other users in an informal way. This could help you to find a record label or gig opportunity, who knows?
2. Use "niche" hashtags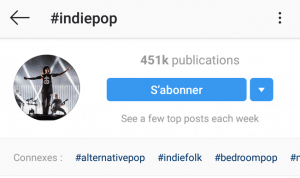 Hashtags are an essential way to increase your posts visibility. Before posting them in your description, you should do some research. Apart from the most obvious hashtags such as #Music, try to find more specific ones.
For example, when we talk about "house music" we include #housemusiccommunity in addition to #housemusic. It is less used but still has a good research volume, making the post easier to get noticed. Each hashtag has its story, so you should also include some in your stories.
To find niche hashtags, you can start by searching the ones you already know on Instagram. In the search results, Instagram will suggest you some others. You can also look at the most popular related posts and see which hashtags are included.
Finally, you can use websites like Ritetag to find hashtag ideas.
3. Link to your other profiles (social media, streaming platform, etc…)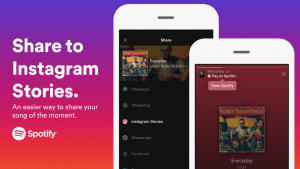 Unlike other social platforms, Instagram posts don't include clickable links (except Sponsored ones). This is actually what can explain its strong engagement. Users spend more time on the feed, and are less likely to leave the app while scrolling.
You still have opportunities to add one clickable link in your bio. If you wanna add more, one turnaround is to use a service like Linktree. It will provide you with a page where you can add multiple links. Here is a preview with the one of our account @dylts.
For verified users, it is possible to add links to stories, that will be accessible by swiping up. Hopefully, that will be rolled out to all users in the future!
The good news is that anyone can post link to music platforms in stories through 2 different ways:
Apple Music: when you post a story, select the "Music" sticker. You will then be able to include a song from Apple Music.
Spotify: from Spotify, click on "share" from the track, artist, album or playlist you wanna share. Click "Instagram stories". That will open a new Instagram story, with the artwork and a link to the music.
4. Showcase your music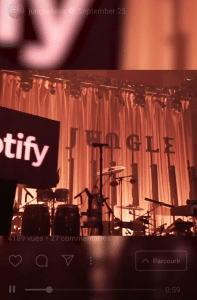 If you're an artist, you post your music on Soundcloud, Bandcamp, Spotify, Apple Music or any other streaming platform. Posting it on Instagram can seem more complicated, but you actually have ways to do it really easily. With its 1 minute video format, this is a great opportunity to get your music heard!
One of my favorite apps to do it is Sounds App. It lets you search for songs on Soundcloud or Spotify, link it with the picture of your choice and post it on Instagram. If you use it, make sure to include #SoundsApp in your post to join the community.
Another new feature to consider is IGTV, letting you upload vertical videos up to 10 minutes in duration! This lets you great opportunities to post your full songs, video clips, interviews, or live shows extracts. To increase its visibility, you can post the link to the video in your stories.
5. Keep a continuous presence
For artists, Instagram is a great way to share different types of posts: new releases, gig announcements, behind the scenes, travels… With stories and posts, you can easily keep a continuous presence without being spammy.
A major new feature this year is the ability to schedule Instagram posts. By using services like Buffer or Hootsuite, you can plan your posts in advance. This will help you to keep a continuous presence while saving time. For example, you can choose to plan your posts for the week each Sunday. Of course, that doesn't prevent you to publish other spontaneous pictures, through posts and stories.
6. Keep up to date with Instagram's new features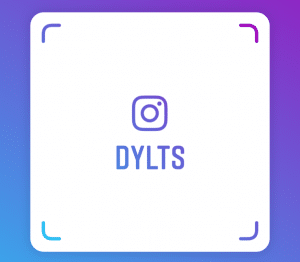 Instagram regularly releases new features that will make your job easier. Features like posting Spotify links or making polls in Stories are only a few months old. Knowing these new features will make you stand out from the crowd and make your Instagram strategy more effective.
Some features are announced by Instagram via Stories, but you can also follow Instagram news on media like Mashable or The Next Web.
As an example, one of the last features that just came out is the 'Nametag', a QR code linking to your profile.
7. Monitor your analytics
Analytics are available to business accounts. If your account is not yet a business one, you can learn how to convert it here.
Instagram analytics are great to monitor your activity and better know your audience. Analytics will give you insights such as:
Activity: here you can learn about the interactions on your profile, including clics and impressions
Content: you can see the summary of your posts and stories and their statistics
Followers: know the main characteristics of your audience, such as age range, gender, location…One of the most useful part is the one showing you the most active times of your followers.
Think about how you can leverage these insights to improve your strategy: which posts performed best? Where does your audience lives? When are they online the most?
Conclusion
Instagram is a fantastic place to engage with your fans and get your music heard. Getting thousands of followers takes time, but applying these tips on the long term will contribute to your Instagram account growth.
Don't forget that quality is more important than quantity: it's better to have less, but more engaged fans. Build your audience over time and keep the relationship going with them. That way, when you have announcements like an album release or a live show, you will already have a fanbase already willing to engage!
Adrien Lemaire is the founder of Do You Like That Song? – aka DYLTS – a blog which started in 2012, originally on Tumblr. It focuses on Nu-Disco, Indie Dance, Chill, House/Deep House, Electro & Pop music.
You can send your music to DYLTS for review on Groover!