Before making your music accessible to everyone on streaming platforms, it is essential that you set up all the conditions so that the song is released with a bang- boosting listens, shares, clicks, additions to playlists, etc. The pre-save function may be the tool you need to improve the visibility of your work or even make it viral at the key moment of its release.
The day a song is released: a moment of truth for the artist
The first invitation of the public is essential for all creative people: directors, musicians, actors, painters, comedians and artists of all kinds. That's why we published an article guiding you in the structuring of this special day. It turns out that this day actually starts much earlier than you may think.
Platforms like presave.io and feature.fm have emerged that allow your followers to pre-add or pre-save your tracks before they appear. As you know, the role of the "first listeners" is essential in the context of a viral promotion campaign. Getting your song added to playlists is a major springboard for all artists. Hence the interest that your music is added to playlists in advance, even before the songs are released.
How to use the pre-save function
The process is relatively simple. The pre-save service allows you to create a pre-save page, i.e. a promotional page announcing your title / album that contains the cover and the exact release date. This page also highlights a series of links to your different streaming platforms (Spotify, Apple Music, Deezer etc.) As soon as the user clicks on one of these links, he will automatically follow your profile on the platform in question and pre-save your titles in his library. It is obviously advisable to specify on this promotional page that by connecting, the user agrees to follow you and save your album. Existing services do this automatically. The pre-save is a kind of digital evolution of the pre-order.
If you test on presave.io for example, once your page is created, all that remains is to broadcast it on all your communication and distribution channels. Don't neglect any channels (emails, external Youtube links, Facebook Messenger etc.)
What are the benefits of pre-save?
Advantage n°1: use the data collected by the pre-save page
The digital aspect of the pre-save represents an opportunity for the artist to exploit. In the physical distribution model that still prevailed fifteen years ago and even in this first era of digital distribution, all the information related to your fans' data was only accessible to distributors. This new pre-order model gives you two promotional levers:
The possibility of using a more relevant database of fans to distribute your sponsored posts or to optimize your digital communication by reaching an already partially acquired audience
Increase your natural audience (automatic tracking of your songs on streaming platforms)
The pre-save page includes links to streaming platforms optimized to improve the user experience. This simplicity encourages the listener to connect his social networks and the platform then segregates the data. You will then get a precise table of data including age, location, favorite listening platform and a plethora of other information.
Advantage n°2: a direct and original communication with your fans and future fans
Another benefit of the pre-save function is that you can accompany your release campaign with a game/competition/draw. Your fans can win a derivative product, a dedication, a meeting (etc.), if they presave your title in their library. The approach has already been well tested, notably by Label Reach Records (Atlanta USA) during the promotion of Lecrae and Zaytoven's album, "Let The Trap Say Amen". A random draw offered one of the participants a $300 in-store discount voucher.
In addition to boosting their release on streaming platforms, the artists were able to see that their biggest fans lived in Dallas and Atlanta and that 60% were between 14 and 25 years old.
The analysis of this data is likely to support you well beyond your communication. The knowledge of the geography of your listeners can guide you in the organization of your tour, your showcases, and your dedications.
Advantage n°3: boost your release and optimize your chances of being heard
It is possible to ensure a maximum of listens on the release day of your album using this tool, the exchange being clear, moral and legal: key data for your communication & the boost of your release with the possibility of rewards.
In particular, boosting your visibility on Spotify requires entering your song into the platform's algorithmic and editorial playlists, giving you a strong increase in visibility. It has been proven that tracks that show strong natural traffic and are added to many playlists- this can be done through a successful pre-save campaign- were detected by Spotify's algorithms. You increase your chances of being spotted!
💡 Idea for the truly motivated: you can take the logic a little further and suggest to a specific media to include your pre-save campaign in a section that informs readers each week about new and upcoming releases. Like how movie theaters promote "Coming Soon" feature films.
Pricing of pre-save platforms
presave.io
Online pre-save campaign production services are proliferating. The platform presave.io offers an entry-level package at 9€/month, but caps your audience at 1000 pre-saves and does not provide you with data such as the location of your fans or their age. To take full advantage of this new tool, you will have to opt for a 29€/month formula (for unlimited presaves) or even 49€/month (to obtain a complete data table).
feature.fm
Fortunately, Groover has looked at the range of services available in this area. The feature.fm platform will produce your pre-save campaigns for free without limiting the number of possible backups. However, you will only have 7 days to store data relating to the audience you have reached during your campaign. For a complete and successful use of the tool, opt for a $17/month subscription for an annual commitment ($19/month if monthly).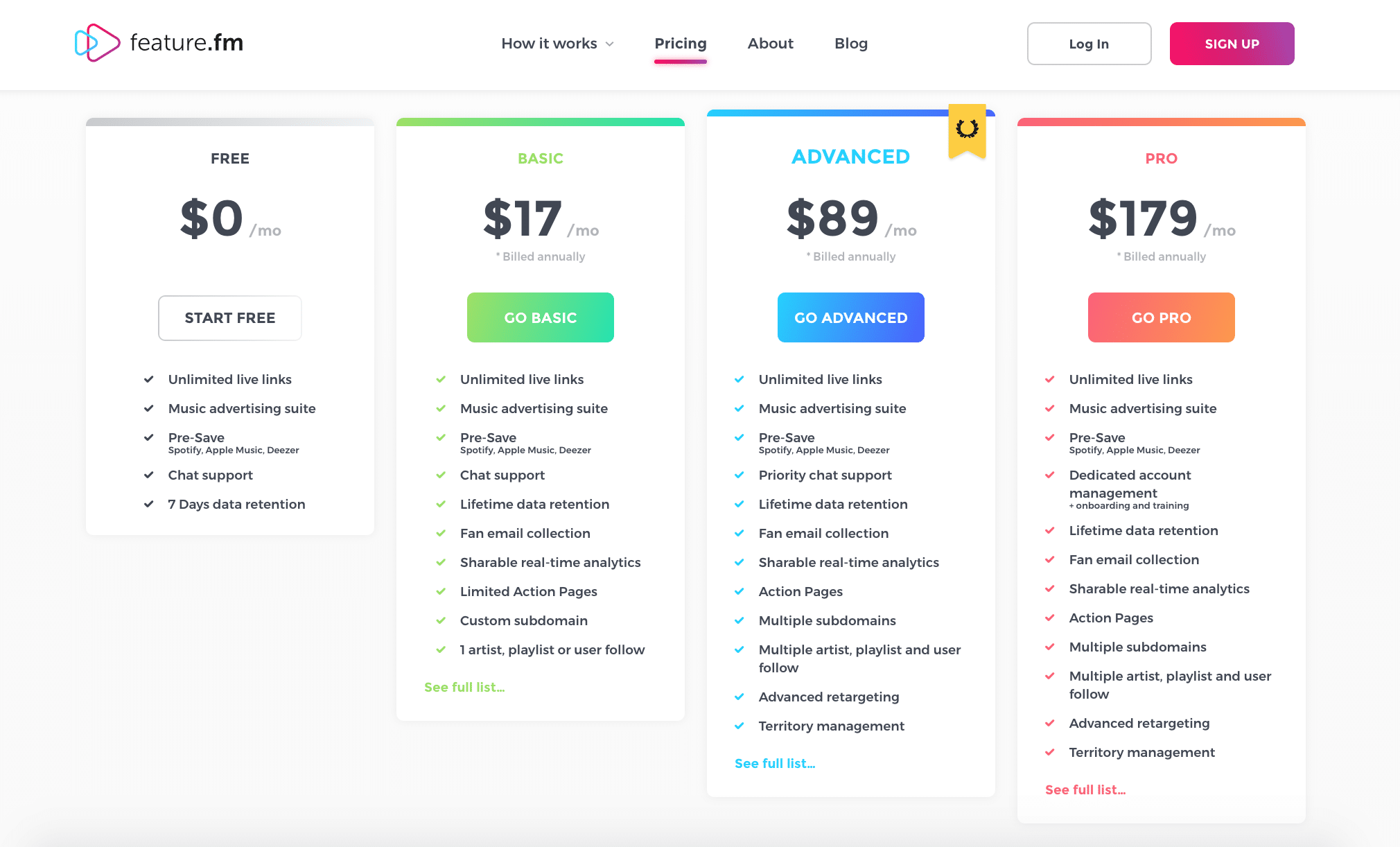 | See as well :
Mastering these new promotional tools will allow you to rise to the challenge: help your music to become known among the tens of thousands of songs that are released every day. The pre-save can significantly increase your streams without necessarily having to be present in traditional channels (radio, festivals).
To summarize, what's the pre-save for?
The pre-save contributes to improving three essential issues that artists face in the promotion of their music:
The quality of natural discovery and getting on the radar of new fans, increasing your visibility on streaming platforms
Maintaining and growing your fan base with innovative tools
Analyzing your fans' data in a precise and relevant way to adapt promotion strategy
Why not try to create a pre-save campaign now to be ready on release day?