Music always deserves a chance – no matter where it comes from.

– gigmit –
gigmit, can you present your project?
gigmit wants to ensure that diversity is increasingly present on live stages. That's why we're taking the live music booking business to the next level for everybody, that until now has been reserved for only a few.
gigmit is a data-driven matchmaking platform for musicians and concert organisers. We use the benefits of digitalisation to radically simplify the booking process. It can be said that gigmit is a major driver of democratising and diversifying the live music industry by giving all participants easy access. Music always deserves a chance – no matter where it comes from.
| Read also : How to find concert dates ? 
How did you get the idea to start gigmit?
Marcus Fitzgerald, CEO and founder of gigmit, has worked for many years as a concert promoter and artist manager. Despite all his love for the live experience, he was annoyed by the fact that the process of bringing good live music on stage is so laborious – even though everyone involved actually wants the same thing.
Then we noticed that the tool is not only interesting for ourselves, but also for everyone else – especially independent artists and promoters who have to manage a lot of requests.
The first step was to shorten the communication and selection process by creating clear structures. Since then, data-driven matchmaking between suitable artists and promoters has been the core of gigmit that we are constantly innovating.
As a side project, gigmit together with eight partner festivals used their unique technology and initiated the Innovation Network of European Showcases (INES). It is co-funded by the Creative Europe programme of the European Union and aims to drive international synergies for music professionals and artists. As a result, many of the most important European showcase festivals discover and book artists on gigmit.
Since gigmit's foundation in 2012 our community has grown to over 150,000 registered musicians and promoters – even during the pandemic.
Aren't you afraid that your platform will overshadow young artists in development?
After all, our aim is precisely to make yet undiscovered talent visible. We take newcomer artists by the hand and explain how to take their artist career to the next level in guide articles on our blog, extra whitpapers on booking, digital marketing and live streaming. In addition we provide them the tools and access to international live opportunities.
Live music booking is a skill that requires a lot of precision. Especially for young, creative, independent artists, it is often difficult to find the right balance between art and business. For successful booking you have to be able to change your perspective: what does your counterpart need? What are convincing arguments? This change of perspective is handled by gigmit automatically through profile-based matchmaking.
Nevertheless gigmit is only a tool. A good understanding of the live music landscape and a proactive hands-on mentality is always necessary for the promising development of musicians.
| For the promotion of your music, find all our best tips on the Groover Blog
Do the artists have to register directly on the platform or do you register them automatically in the database?
Artists register individually on gigmit and create their own profile. From that moment on, they get visible and bookable via gigmit and beyond.
We are very proud of the gigmit Artist Page because it provides all the information relevant for booking at a glance – and we launched our new FAN CHARTS feature this year. This means that event organizers can now also see the fan and listener numbers of an artist in their region. We don't think a smart business card of this quality is accessible anywhere else for free.
What are the benefits for artists to use gigmit?
As a large network and community, gigmit offers a lot of different opportunities for artists that would otherwise not become visible to them or sometimes wouldn't exist without our collaborations with promoters and brands.
First of all, there is the professional (and free) artist page as an entry point and basis for all aspects of the booking business, followed by gigs or open calls and easy access to promoter contacts. The gigmit FESTIVAL & VENUE DATABASE provides artists with contacts to over 15,000 festivals and venues and the database is growing every day.
In addition we have many partnerships with music brands that result in benefits for gigmit users: e.g. free digital distribution on Spotify & Co, attractive competitions or the chance to be signed by SONY Music.
To be honest, being part of the gigmit community can only benefit an artist!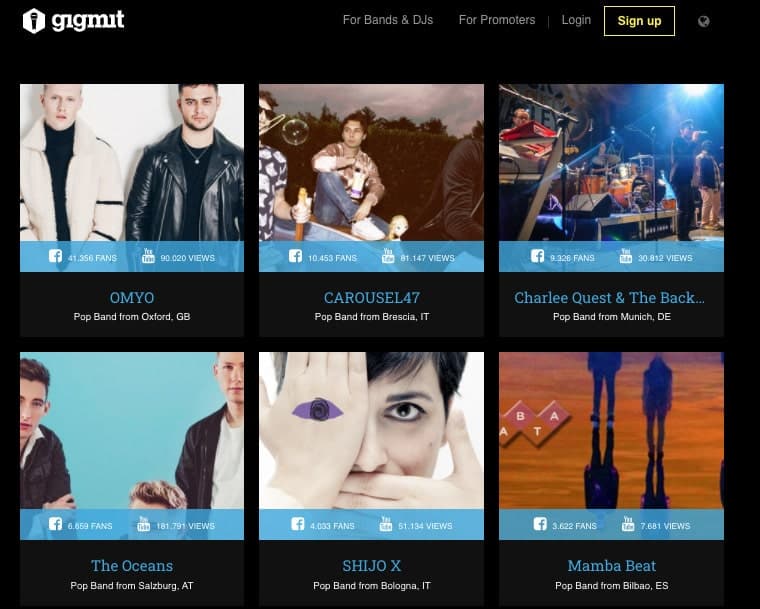 Is it free – for artists and professionals?
Yes, everyone can use gigmit for free.
Special features are available for gigmit PRO users and some gigs require artists to start a gigmit PRO trial. This is our premium service for artists who want to have a better chance of getting booked. We offer an annual contract but payable in artist-friendly monthly payments of 19€. That's the equivalent of a good box of beer in Germany. 🍺
We offer all DJs and live acts to test gigmit PRO for 30 days free of charge.
| Read also : What is the budget of a good musical promotion and where to invest it?
gigmit, what are your plans for the upcoming year?
Our greatest wish – as probably everyone else's too – is that we can overcome this pandemic as quickly as possible and resume live concerts and festivals. We are already longing for the smell of tube amps and the sacred feeling in clubs packed with live music fans.
In 2021 we want to make the complicated live business even clearer and smarter. Work less, create more! We will refine our data-based matchmaking between artists and promoters and of course offer even more gigs. It is great to see that a lot of festivals are booking now for Summer and Autumn 2021.
Recently we introduced the possibility for artists to exchange collaborations and plan shows together on the platform. With gigmit FAN INSIGHTS we come closer and closer to predict how many visitors will come to a concert. Once you have started the pioneering work, there is no end! 😉
The digital future of live music has already begun. Feel invited to join and register now with gigmit here!
And finally, what do you think Groover brings to the music industry?
Promotion and booking have three major things in common:
Both areas are extremely important for musicians.
They depend on good contacts.
And they can be simplified by digital support and thus benefit more people.
Both platforms are interdependent and promotion fires up the booking and vice versa. Groover does important work here and seems to be a good opportunity for independent artists. The fact that they get guaranteed feedback and don't simply get passed over in silence is a great quality that makes the music industry more transparent and sustainable which is what we all work for.